Voyage Logs
This page contains a collection of memories, some distant some recent, of voyages taken across the vast expanse of our oceans, reproduced here for your enjoyment and hopefully even education.
There is no other experience quite like a voyage to expand the mind, to feel free in the vast spaces of a deep blue sea, and to immerse yourself in the sights, sounds and smells of distant lands visited along the way.
Readers are welcome to offer their memories for inclusion on this page. In the first instance, please make initial contact with me by using the Contact Form found on this website, and I will respond quickly. Shared stories will need to be factual, readable, appropriate and of general interest to a wide audience, and not subject to copyright. I look forward to hearing from you.
1863 A Journey to Queensland
These days it is hard to imagine embarking on a 3-month non-stop voyage in a 1218-ton ship with 432 passengers crammed into it. The clipper "Golden Empire" arrived in Brisbane after experiencing 4 births, 3 deaths (both statistics including a son of this diary's author) a flogging, a crew mutiny, and two mast breakages on the voyage (so nothing too serious).
Reproduced by courtesy of the Queensland Maritime Museum.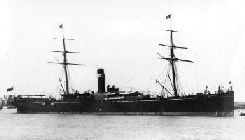 1886 By steamer to Australia
An account of a voyage to Australia on the sail-assisted steamer "Dacca". Births, deaths, cholera, tropical heat, storms and (supposedly) cannibals; not a voyage you'd undertake for the fun of it.
Reproduced by courtesy of the Queensland Maritime Museum.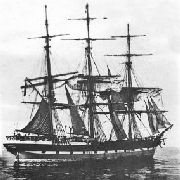 1896 A voyage to the colonies
This is my Grandfather's account of a voyage from England to New Zealand and back in 1896-97, as a deck apprentice on the clipper "Invercargill". It describes in detail a life under sail; the hardships and privations, and the agony of being becalmed for days almost within sight of home.

1902 A voyage log, or a love letter?
Another account, this time Granddad was a passenger from Australia to England on the steamer "Runic". He had left behind the girl he would marry.
In those days passengers organised their own entertainment, and seemed to have had fun doing so. In port, a few had trouble getting back to the ship on time - some things never change!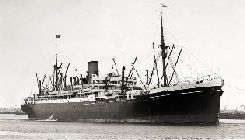 1920's Between the Wars
Not so much a voyage account as an essay; a commentary on the people and attitudes of the times rather than the ship "Largs Bay" or the voyage.
Reproduced by courtesy of the Queensland Maritime Museum.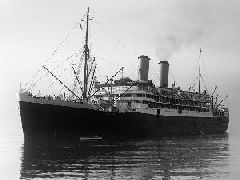 1958 We are going to Australia tomorrow
Recollections of being brought to Australia on the "Orontes" as an 11-year-old "ten pound pom" during the post-war migration boom.
Reproduced by courtesy of the Queensland Maritime Museum.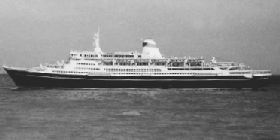 1975 A month to remember
My own account of a horror voyage from England to Australia on the Soviet (USSR at that time) owned and crewed "Shota Rustaveli".
The Cold War was in full swing, the KGB was evidently in charge of the ship, and the passengers could have been forgiven for thinking they were on a floating Gulag. Oh yes, and there was that Soviet submarine...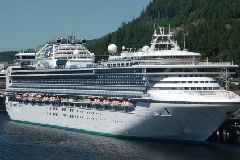 2019 Calm seas and smooth sailing
Notes of a voyage from Singapore to London on board "Sapphire Princess". On sea days I delivered enrichment lectures to the ship's passengers; it's a tough life.
This voyage took me to some more out-of-the-way ports for the first time, and enabled me to renew acquaintance with others I hadn't seen for a while. In between, we sailed some waters where the threat of pirate attack is taken very seriously.

An Unexpected Voyage Itinerary February – March 2020
Sydney to Adelaide
Here we are on the beautiful boutique Pacific Princess, us and around 640 North Americans about half-way through their 111 day Around-the World cruise. She's small, only 30,000 gross tonnes which these days rates as a mini-ship, and that does have its advantages! Apart from the absence of any crowds anywhere on the ship, the service and food are both amazing, empty lifts arrive almost the instant you press the button, and finding somewhere to sit is never a challenge, even for the cabaret shows. We no complain!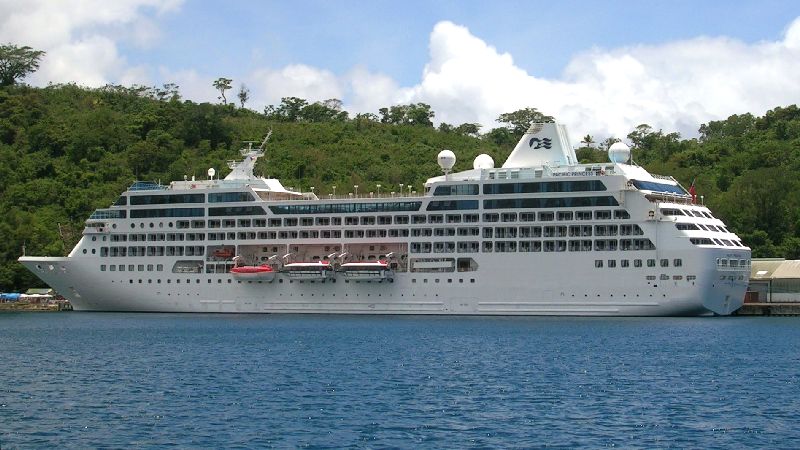 We have even been given a passenger cabin, and with a large window; a little more luxurious than our usual officer cabin in the crew quarters! OK, the view is a little obstructed with a tender boat outside, but at least we have natural daylight and can check out what the weather looks like before dressing for the day.
My Enrichment Lecture contract was supposed to end in Singapore, a 14 day cruise from Sydney with calls along the way at Melbourne, Adelaide, Perth and Bali, but already the captain has announced that the itinerary has changed and we are now adding 4 more WA ports (Albany, Busselton, Geraldton and Exmouth) to the Australian part of the itinerary, and Bali and Singapore are closed ports now due to the rapid spread of the Coronavirus, which now looks to be officially heading towards a serious global problem. After leaving Australian shores we will be heading directly for Colombo Sri Lanka to pick up the remainder of the World Cruise itinerary, in the hope that all the remainder of the intended ports continue to remain open. That adds an extra 7 days to our stay on board. We thought that as a result of the changes Princess would probably discharge my contract in Fremantle, but no. They asked us to stay on board to Colombo and will fly both of us back to Brisbane from there. Very comfortable with doing that coz well, somebody's got to do it!
So, what's been going on then? Well, after a warm evening departure from Sydney, slowly gliding under the bridge and past the beautiful lights of the city and Opera House, we headed out into a rather wild night of weather at sea and because this is such a small ship we had a very sleepless night as she did everything but roll over. And that's OK too, we don't mind a little wuff wevar.
Next day at sea on the way down to Melbourne, we sailed very close to the coast so we could see the various coastal towns, until we "turned the corner and crossed the paddock" – otherwise know to landlubbers as rounding Cape Howe and sailing across the stretch of water between the NSW border and Wilson's Prom, during which time the sea state subsided somewhat. Passed a number of gas and oil rigs during the afternoon.
Berthed after a bit of a delay at Station Pier at 10am and met by an old friend a little later with whom we spent a good part of the day as this city had been my home town for most of my life. Melbourne weather up to its usual tricks, light drizzle, cool and overcast in the morning and sunny and somewhat warmer in the afternoon. It's all about clothing layers down here.
I have to admit (reluctantly) that the North Americans onboard raved about Melbourne, the shops, the culture, the city buildings with their quaint arcades, the expansive Victoria Market, and so on and on. Seems the popular vote was that it is a lovelier city than Sydney! Obviously haven't been to Brisbane. We had dinner on the Panorama Buffet open balcony looking over the stern of the ship and watched the lights of Melbourne flicker on as the evening closed in.
Next day saw us at sea on the way to Adelaide in relatively calm seas, but a bit of a chill in the air. Again, following close along the coast, mostly low laying with sand hills frequently seen. During the early afternoon the city of Portland stood out with the Alcoa smelter works and wind farms very visible. Surprisingly I can actually get two to three signal bars on my mobile phone out here at sea, but none at home in a suburb of Brisbane!
My third lecture completed this morning (every sea day at 10am). Thankfully the passengers say they are enjoying my lectures and reckon they are learning a lot about Australia, so that's a relief! Because of the itinerary change I have had to include a few more lectures than originally planned, but that's OK and there were cheers when I announced that this morning. So far so good.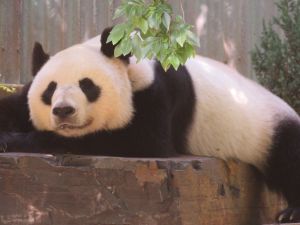 Yesterday sunny and hot at 31c in Adelaide! We caught a suburban train into the city (the station is just across the road from the cruise terminal at Outer Harbour, and public transport is free for Seniors) and the trip takes 35 minutes. From the Adelaide Station we took a bus to the nearby Adelaide Zoo. A lovely spot well laid out and with great landscaping, but much smaller than Melbourne or Sydney. Still, there was a lot to see, including very lazy panda bears.
There is heaps going on in Adelaide this weekend with some city streets blocked off for the car races, the Adelaide Fringe Festival is in full swing and there seems to be a few other events about, so the city was very alive. In fact, I would have to say Adelaide is no longer the sleepy little over-sized country town it used to be, it's a lot more sophisticated these days.
There were many volunteer guides on hand both at the cruise terminal and in the city to hand out maps and advise on what to see for the day. I must say that it would take several days to see everything just around the city area. Some of the passengers on board took tours up to the Barossa Valley and the wineries, others over to the Murray for a paddle steamer cruise down the river, and others to the quaint German village of Hahndorf in the ranges behind the city – all very happy with their day ashore.
One of the remarkable features of Adelaide is the amazingly wide streets around the city centre, much more so than any other Australian city, and this gives it an air of spaciousness. There are heaps of trendy pubs and cafes, and all of them seem to be very busy.
From the outset a great deal of thought was invested in the planning of Adelaide, even down to the belt of beautiful parklands that completely surround all four borders of the city. Whilst in the CBD we took the opportunity to walk the very crowded Rundle Mall and take back to the ship some essential supplies.
And so today, crossing the Great Australian Bight towards Albany, arriving the day after tomorrow. Scattered cloud, around 20c and very long two to three metre swells rolling up from the Southern Ocean. Pacific Princess is gliding over them beautifully.
Adelaide to Geraldton
After departing Adelaide, two days at sea rolling across the Great Australian Bight under cloudy skies. The 3 metre swell still pushes the ship around; it probably would be hardly noticed on a larger ship.
Let me state emphatically that it will not be any fault of our own if we arrive home from this cruise several kilos heavier than when we departed! The quality and variety of the food constantly amazes us, and it would be an absolute crime to deny ourselves the opportunity to sample at every single opportunity. I think this is because she only carries 640 passengers, so the chefs can focus on more interesting and specialised offerings without the pressure of having to cater for thousands.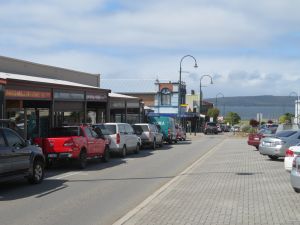 And so, we arrived at Albany WA, on a rather cool, showery and blustery day, which later morphed into just a sunny and cool blustery day. The entrance to King George Sound and the harbour are great photo opportunities. To approach the industrial wharf where we berth from the broader waters of the Sound, the ship has to negotiate a very narrow channel between a rocky peninsula on one side and the rocky headland on the town side of the harbour opposite, named the Ataturk Channel in honour of the Turkish General who led his troops against the ANZAC troops at Gallipoli and later became the President of Turkey. He later proved to be a firm friend of Australia and did much to honour his former enemy, the ANZACs.
So, what is significant about Albany? It was the gathering point for the very first ANZAC convoy of 30,000 troops and their horses aboard 38 requisitioned merchant ships of all sizes that were hurriedly converted for the purpose of transporting an army to Egypt.
Protected by 2 RAN light cruisers, the HMAS Melbourne and Sydney, the HMS Minatour and the Japanese cruiser HIJMS Ibuki, this mighty convoy sailed from here for Egypt on the 1st November 1914. On the way, the HMAS Sydney engaged in a battle with the German battle cruiser SMS Emden and destroyed her at the Cocos Islands, that being the RAN's first ever naval engagement. Of course, some months later these troops were to be landed at Gallipoli, and we all know how that went. My grandfather was captain of one of those troop ships, both for that convoy and at the Gallipoli landings. There is an excellent National ANZAC Centre here describing the events around that and other convoys that left the expansive King George Sound for war.
Australia's last whaling station was located here, and it was (thankfully) closed in 1971. You can still visit the museum there and a restored whale chaser vessel.
Albany and the surrounding area sport a dramatic wild coastline, wineries and several large national parks one with a tree-top walk. In fact, the whole south-west corner of WA is picturesque, and if you do plan a trip there, check out Mumbles Stays website (at Mumballup) for a truly wonderful boutique stay. Of course, that's not all there is to do in the region, but it's a start!
They say every cloud has a silver lining, and for the locals in Albany that rings true. Because of the Coronavirus, several cruise lines have diverted their ships "down under" from Asia and will now include stops at Albany on Round Australia and shorter voyages. The shuttle bus driver told me that in March they were to have 3 cruise ship calls, but now 10 will come this month alone. And many more scheduled over the coming months too.
And then another day at sea rounding the often extremely rough south-west corner of WA. For us it was a bleak day, chilly high winds, black skies with occasional lightening, olive-green seas and white caps everywhere. And this is summer in Australia??
We were quite convinced that our call at Busselton would be cancelled the following day. The Met. Office predicted strong winds blowing from the north, straight into Geographe Bay where we were to anchor and tender ashore, overcast skies and a possible thunderstorm. Nup! Light winds, warm temperature (at last!), a clear blue sky and although a small swell from the west, good enough for us to stop for the day. I took the tender ashore after breakfast (another advantage of a small ship is not sitting around waiting your turn to go ashore. You walk straight on when you are ready.)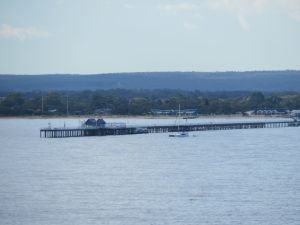 A feature of Busselton, gateway to the Margaret River wine region, is the historic 1.8km long jetty with cute little blue painted cottages housing small shops at both ends. Once a thriving port for coastal passenger cargo ships, it outlived its usefulness many decades ago, and now is a tourist attraction with a little train that runs out to the end, where you will find an underwater observatory. If you ever visit Busselton, I recommend a visit. You walk down several short flights of stairs inside the cylindrical structure, with windows at each of the three levels to view the old wharf pylons that have been left in place and grow a variety of colourful sub-tropical marine life, not to mention the fish swimming past or feeding off the soft coral attached to the pylons. These living corals are basically long orange coloured spikes which, when feeding off the passing plankton, sprout white flowery blooms that catch their meals. When they've finished the white blooms retract and totally disappear. The origin of the marine growth on the pylons is from Indonesia. The organisms ride the warm Leeuwin Current down along the coast of WA to the very bottom of the west coast, attaching themselves to underwater objects along the way.
Busselton is a beautifully manicured town with several cross-streets of shops. The waterfront is very inviting with long, lovely green lawns along the white sandy beach, and heaps of pine trees for shade. It really is one of those towns where you might say "I could live here!"
Up anchor and away at 6pm and a 7am arrival next morning in Fremantle, one of our favourite ports. The relatively small harbour (about 8 or 9 decent sized ships can fit in here) is actually the mouth of the Swan River. Perth is about 21kms by road. Conveniently located across from the passenger terminal is the Fremantle railway station which takes you into Perth CBD, about a 25-minute trip.
It's a lovely warm day and blue skies, Yay! This time we went back to the Fremantle Markets (as we always seem to do), a very large and historic under-cover building with all sorts of stuff on display. This place draws us in every time! Clothes, antiques, curios, all imaginable sorts of craft goods, a huge variety of food stalls, and of course, a fruit and vegetables section. This is a mecca for locals and tourists alike, a bit like Melbourne's Victoria Markets, but somewhat smaller. This, and the rest of Freo is always alive; lots of trendy coffee shops, cafes, a few old pubs, and lots more besides. The other thing that fascinates us about Freo is the beautiful historic architecture around the CBD.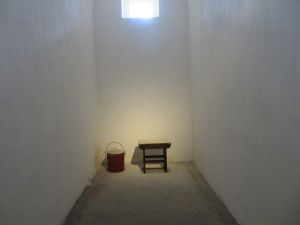 Next stop was the Old Fremantle Jail, built in 1855 and only closed in the 1991 after a riot by the inmates protesting the disgusting and primitive conditions they were forced to live under. Housed in little airless cells about 6' by 3' (built in the 1860's), seriously abused by the equally psychotic warders, and a poor diet, it was easy to understand why the riot occurred. We took a 90 minute tour of the jail and saw first-hand what these prisoners endured, heard stories about some of the escapees in the early years, and even saw the death cell where the condemned prisoner was housed for the last 2 hours of his life, even in the 20th century. A very small, cold and dark box-like room with just a tiny wooden stool to sit on until taken to the gallows. The last execution was in 1964. A couple of hours in there and you would want to die anyway.
After lunch we availed ourselves of the free city circle bus to locate to source additional supplies for the long journey still ahead. Then back to the ship, stopping at E Shed, close by to the cruise ship terminal. Also worth a visit if you find yourself in Freo, this old cargo shed is now home to some trendy bars, a food hall and a very large antiques and collectables section. I was almost enticed to buy several fabulous items here but loading them onto the ship might have been an issue; it doesn't have a crane or cargo hold big enough for the items I would have loved to buy! And so, in a glowing afternoon sunset we departed Freo, heading north overnight to our next port, Geraldton.
Geraldton to Exmouth
We arrived at the Port of Geraldton at 9am. Larger ships must anchor off the port and tender ashore, but we were able to squeeze through the narrow port entrance and join several foreign flagged bulk carriers docked alongside either grain or bauxite terminals, loading for a quick departure. There were several other bulkers sitting off the port waiting their turn to enter and load. Two tugs guided us into port in brilliant sunshine and nudged us against a grain wharf, whilst we sat having breakfast on the lovely open verandah over the stern of the ship that leads out from the Panorama Buffet.
Caught the free shuttle bus into the centre of town (funded by the local shire council), and from there we walked along the main shopping strip, one street back from the sea-front road with its resorts and holiday apartments. Local volunteer guides everywhere to hand out maps and advise visitors where to see the sights of Geraldton. I can't explain why, but somehow the town looked much larger, more colourful and livelier than our previous calls. Maybe it was because it was the Labour Day long weekend, I don't really know, but for a Sunday in a relatively small town, the place was crowded with both locals and visitors.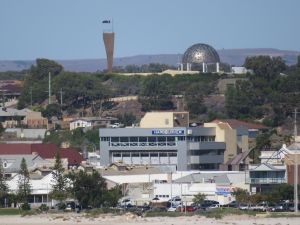 I described Geraldton in my last blog in December, so not really necessary to go over that again, but suffice to say that I just had to go back to the excellent Geraldton Museum which included displays of articles retrieved from the ill-fated wreck of the Dutch East India Company ship Batavia in 1629. That was a gruesome event, and if you haven't read the book, you really should. It is amazing how depraved humans can be when they think they have nothing to lose. There are also some artefacts on display from the tragic loss of the HMAS Sydney off Geraldton in November 1941, including a wonderful movie in 3D exploring the wreck of the Australian battle cruiser, and the German raider Kormoran that sank her. They provide 3D glasses, and I'm here to say that it was fantastic. You really felt you were swimming around both ships, particularly the Sydney which, despite her destruction in the battle, is still very much intact.
I included the story of both events in my West Coast Shipwrecks lecture before we got there and that seemed to be very much appreciated by the passengers who would not have otherwise understood the real significance of those displays.
Then a sunny day at sea following the WA coast north, with a gentle swell; the days are getting hotter! Anchored off the very small township of Exmouth, which from the ship seemed to be just a random collection of houses leading back from the foreshore, with a marina jutting out from the beach.
A short tender ride into the marina and a bus shuttle into the very small and basic shopping centre comprising a pharmacy, a couple of dress shops and tour operators, a bottle shop, bakery and two, (yes! TWO) large IGAs facing each other, their front doors 10 metres apart...…don't ask, nobody could explain why! But, they co-exist, and one proudly displays a sign saying that it won the award for the friendliest supermarket in WA last year (2019).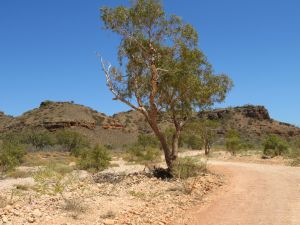 Across the road is a small water park for the kids, but it was closed, and nearby to that, the Exmouth pub. There, I've just about described the whole of Exmouth. Oh yeh, except for the rather desolate canal housing estate outside of the township where a house and land will cost about $1million. For God's sake! This is in the middle of nowhere!
The main reason the town exists is that it has a very large military communications base just outside of town, established by the Yanks in the early 1960's to communicate with their submarines during the Cuban crisis, and it's been updated ever since; now there are 13 radio masts there, each higher than the Empire State Building (if that comparison leaves you in awe)!
Most of the passengers who had not already booked a tour onboard our ship got off the shuttle, took one look around and headed back to the ship. Some stayed to have a cuppa and a cake before leaving, the flies hoping to make new friends all the way back to the marina.
Exmouth sits just around the corner from North-West Cape, and tucked just inside the vast Exmouth Gulf, so it is sheltered from the Indian Ocean swells. It is also the northern point of the world heritage Ningaloo Reef which extends down the coast from here for over 260 kms, so that's a further reason why people come to Exmouth, to visit the reef itself.
Realising that there must be more to this place than meets the eye, I got on the phone to the local Avis guy, and within minutes he was there, picked us up and drove us back to his little donga where we picked up a Toyota Corolla. At his suggestion we first drove south for 30 minutes and turned on to a dirt road that lead inland to a mountain range which extends all the way down the centre of the peninsula that Exmouth sits on one side of. Soon we were inside a massive gorge, with several valleys leading off in both directions. Absolutely spectacular, the stunning varieties of rock colours, the brilliant green-leaved gum trees, some hanging precariously to the rough cliff faces, and all against a deep blazing blue sky. Man, this is truly Australia at its most beautiful. I imagine the centre of OZ must look like this. Our camera went berserk!
After around 10kms the rough dirt road started to reduce to a very narrow rocky track and I could imagine the tyres being torn to shreds, so we turned back until we re-joined the main road north again into town, stopping there for a meat pie which we generously shared with a swarm of famished flies.
Heading north for about 30 minutes, we reached the very tip of North-West Cape, and there we found a steep road leading up along a ridge to a tall lighthouse. From up here the view back down the Exmouth Gulf on one side, and the Indian Ocean and Ningaloo Reef on the other, was stunning, reaching all the way down south in the far distance.
Further on, a visit to a turtle migration centre and the Ningaloo Reef Interpretive Centre (with a kangaroo lounging in the heat at the side of the building) and a close encounter with two bloody huge emus nonchalantly crossing the road right in front of us, then we retraced our steps back to town and a beer at the only pub in town. Some people told us there was a couple of adult emus with their 5 chicks following behind, walking through the centre of town.
Back to the ship at 5pm, and sailed at 6pm, our homeland quickly disappearing behind us as we now spend 7 full days at sea on our way across the Indian Ocean to Colombo. I must admit at this point I was starting to feel just a little bit nervous about how this voyage was going to pan out as our final chance to abort this cruise slipped into the distance. The news about the rapid global spread of the Coronavirus and the fact that many ports were now starting to turn cruise ships away (such as we had experienced with Bali and Singapore) had me wondering whether we might get caught up in all this drama as well. I did give serious thought to whether we should have left the ship here in Exmouth, but 1) transport out of remote Exmouth is very limited and expensive, 2) I had committed to complete the series of lectures for the passengers, and 3) there's just a little bit of a sense of adventure, and perhaps curiosity as to where we might end up in all this.
I had some reassurance that things would turn out just fine when Princess emailed us our air tickets from Colombo to Brisbane via Singapore for the 11th March, but the very next day sent us revised tickets via Dubai as transiting through Singapore is now a no-go. That was fine, we could accept the change in flights to transit through Dubai, but now, a little disturbingly, things have changed again!
The captain has just now advised us that Colombo has closed its port to all shipping, and no-one can land. We have been given special dispensation to call in, refuel and re-provision the ship, and then rack off! Absolutely no-one must leave the ship. Princess tried to get a special pass for us and several musicians on board to go straight from the ship to the airport as the ship is definitely virus-free, but nup! No exceptions, so who knows where from here?
So here we are, in the middle of a calm, brilliant blue sea and sky, on this lovely little ship and still making our way to a country that doesn't want us. Toughest decision is what to select for our next meal; life is just so full of all these little dilemmas!
Word is that we will probably head for Capetown South Africa next where we will be able to leave the ship and fly home. But all this is complicated by the fact that Princess gave me another contract a couple of days ago. We are to be flown back to Perth to board the Sea Princess in Fremantle 21st March for a 17-day voyage around the top of Australia to Sydney. LA have sent me an email saying they are monitoring our situation, and the Cruise Director is saying that we still might make it to Fremantle in time to join Sea Princess. We will wait and see, for nothing seems certain anymore!
At Sea towards Colombo
I just can't stop it! That song "A life on the ocean waves" keeps running through my head! We are into Day 3 of our 7-day voyage from Exmouth to Colombo, and that lovely blue sky has been replaced by dark clouds and passing showers. It's humid and there's a bit of a breeze, but the ship is only moving very slightly, which must be of some relief to one bloke on our table who has been wearing a patch behind his ears since he boarded two months ago. He says it works for him.
As mentioned previously, Colombo on the 11th is now just a quick refuelling stop. Apparently, they tried to get an exemption from the government for us to leave the ship, but no exceptions would be granted. It means I need to bring out another lecture schedule for the passengers for the sea days up to the following port, Port Victoria in the Seychelles where we are hoping that there we will be allowed to land and fly back to OZ; that means delivering another nine lectures from today onwards. I've already completed 8 to date.
If we have to stay on board for longer I have a further six I can add to the schedule, but as Julie says, beyond that I will probably have to repeat the most popular ones or drag out some that I have held back, having written those ones purely for Australian and Kiwi audiences, and there are only 17 of us on the ship.
The Captain, the ship's surgeon and ship's Hotel Director called a meeting this morning which almost every passenger onboard attended in the Cabaret Lounge, intended to allay any fears about the Coronavirus, and assure us that the company and the ship were doing everything possible to make their voyage enjoyable, despite the uncertain circumstances.
Somebody must have told the village idiots about the meeting as well. Basically, no unexpected or really relevant questions from the passenger side, only demands for big compensation from the passengers for ports missed, and when can we leave the ship and fly home and will you pay for it and compensate us for the unused days of the voyage, and can you promise other port calls on the itinerary won't be cancelled, etc etc. and so it went.
The reality is that everything is out of the hands of the ship, and we must all roll with it (so to speak), whatever comes our way. Getting stressed will achieve nothing. As the captain said, we are probably in the safest place in the world; there are no cases of the virus onboard, and the still planned ports of call on the itinerary are all deemed either low or no risk, and if they thought there was any risk to passengers, they certainly wouldn't call there. On top of that we are a pretty small community of seemingly very healthy people, only 640 passengers and 350 crew, unlike the grossly over-sized cruise ships (Disneyesque fun parlours) roaming the high seas these days. Aaaargh me heartys for the good old days when a ship was a ship! Aaaaargh!!
Thankfully the Cruise Director bought bottles of wine for us "on the house" to keep us from going bankrupt. Yesterday Julie thought it high time I get a haircut, so up to the salon I go and enquire about the cost of trimming my mop of thick and lush hair (OK, those few scant strands that still stay faithful to me). Any bloke ever had to dish out the equivalent of A$80 for a very slight trim? Nup, didn't think so, but that was the price which admittedly included a meagre and mandatory A$22 tip for the barber!! Remembering that the other ships have several enterprising crew members down on the M1 in the crew area who set up their "salons" ie; a stool and mirror after their working day, and do a roaring trade for crew members at $10 a cut, that's where I ended up, and had probably the most exacting and perfect cut those pathetic little strands of fluff have ever seen.
And so that's about it until we have more definite news regarding our fate. But hey, it's not all bad, we would rather be marooned on this ship at this time than any other one. Meals and entertainment have been ratcheted up another notch, so there's a positive! And, the overcast skies are clearing and turning bright blue just ahead.
At Sea
So far, ten days straight on-board Pacific Princess since leaving Exmouth WA, and as I speak no one has gone loopy (yet)!! But I have to say that the novelty is starting to wear off for some unsettled passengers who were not due to leave the ship until back in the USA but are now actually talking about jumping ship in the next port we stop at (if there is one before Miami) and heading home. The planned itinerary from this point on is scheduled to call in at Zanzibar, Madagascar, Mauritius, Reunion, Comoros, three ports in South Africa, then Namibia, St Helena, Brazil, and several Caribbean islands before ending in Miami in late April.
But, as expected some negativity is starting to creep in and I am concerned that what was intended to be a luxury world cruise is becoming less exciting by just a handful of individuals who would bitch if they won the lottery. We definitely do not intend to be part of their pity-party! It is what it is, so suck it up buttercup! Having said that, we are sailing into the unknown somewhat, and after a day being restricted on board ship in Colombo whilst stores and fuel were loaded, everyone is now pinning their hopes on us stopping in the Seychelles in 4 days time, although the captain has told us that port too has just announced it is now closed to cruise ships, but given that there is no viruses on board our ship, a submission to their government has been made that we should be exempted from the ban. This would mean that all we people with expired contracts (despite the fact we continue to entertain the passengers) could fly home.
Given that the Pacific Princess has been calling at Coronavirus-free ports over the past couple of months, this ship is totally clear of the virus, and amazingly there doesn't even seem to be a case of a common cold, something that is a given in larger ships. The crew are constantly disinfecting every exposed area on the ship repeatedly, anywhere someone might touch a surface, and I mean absolutely everywhere! Even the tables and chairs in the restaurants are disinfected after each person has left their seat! Apparently, the solution they are using is so strong that it immediately kills 99% of any germs including any possible traces of the Corona virus, and it lasts for many hours.
If the Seychelles allows us to leave the ship there, we will arrive back in Perth via Mauritius on the 18th and join the Sea Princess on the 21st for a 17 day voyage around the top of Australia. We would be very happy with that arrangement as the Sea Princess calls into Darwin on our way round to Sydney and we will have the opportunity to see our family there and celebrate grandson Cooper's birthday, and also it is probably more reassuring to be cruising in home waters. However, if we must remain on this ship until Capetown on the 4th April, then we just have to go with that. We have no options.
Our progress south-west across the Indian Ocean has been a bit of a mixed bag, the first few days hot but lots of passing showers. The last week or so has been clear skies and the one constant has been a fairly flat sea and hot weather all the way. Lectures still going exceedingly well, and lots of great feedback. Some too generous attendees are pressing me to take books from them on all these other subjects they think I might be interested in researching; unfortunately these books are far more than I could get through on this voyage (unless we find ourselves stuck here for the next few months!).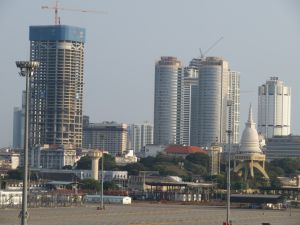 I mentioned our call at Colombo, which I also described in an earlier blog last year when we called in on our way to England. Well, from the deck of the ship it doesn't seem to have changed much except for the skeletons of a few towers the Chinese are building on a vast tract of reclaimed land next to the port area. Not unexpectedly, work was halted a couple of months ago, and no-one knows when this huge city-within-a-city with all its office towers, apartment buildings, hotels and suburban housing areas on man-made canals will be completed. Also from atop the deck you can see the city skyline over the frames of many huge container cranes. Big box boats loaded with containers continue to sail in and out all day long.
It was interesting looking down from the deck onto the wharf below, the line of 40' containers full of supplies on pallets for our ship, being manoeuvred by locals with gloves and face marks and transferred on board through an open door in the side of the ship . No-one shoreside was allowed to board, even two Generals who turned up during the morning and attempted to board were turned away by our security officers; somewhat chagrined they jumped back in their big staff car and sped off. Two armed soldiers then appeared in a truck and stood by the gangway until our departure. God only knows what they thought was going to happen, certainly no-one was going to try and jump ship.
The only one allowed on board was the harbour pilot who had to go through a temperature check, medical inspection by our senior doctor, put on a facemask etc. before coming aboard for our departure at 5:30pm. He was escorted straight to the bridge and 10 minutes after we left the wharf the pilot boat came alongside and took him off, even though we were still inside the harbour and heading for the entrance. Fear is a funny thing; people behave in different ways.
Anyway, here we are, next day at sea sailing on a south-westerly course under blue skies and over flat seas, towards the Seychelles and waiting to hear if we will be granted permission to stop there.
You could hear the groan for miles after the captain came over the public address system the following day to announce that the Seychelles have refused our application to be granted an exemption to berth, and LA have now ordered the ship to return to Fremantle.
At Sea Towards Fremantle
During dinner last night the captain announced that we should go to our cabins and switch to channel 43 to view an announcement from the CEO of Princess Cruises, nothing more said than that, just go and view the speech. I have to say after hearing a lot about the company, the kicker was that all ships in the fleet are to be laid up for 2 months and if passengers were currently on a cruise ending before the 17th March, then the cruise would be completed, but if still at sea after that date (that's us), then the ship would be going to the nearest convenient port to discharge all the passengers and send them home.
So, here we are in the northern end of the Indian Ocean, full speed heading for Fremantle! The captain has advised that we will arrive back in Fremantle next Saturday 21st – seven more days at sea. That was the very day we were supposed to join the Sea Princess in Fremantle for the next gig, well that's not going to happen, nor the next one on 15th April, according to an email to me from LA office. I'm starting to think that even the one after that in July from Sydney to Tokyo for the Olympic Games is now in jeopardy.
It wasn't until yesterday, and very inconveniently right in the middle of my lecture, that the captain then made a further short announcement that we would reach Fremantle next Saturday at 7am, and further information about arrangements for disembarkation and on-forward flights would be provided when received from the LA office in the next few days. He also mentioned that their first choice had been to divert us through the Suez Canal and end the voyage at a European port, but now that Trump has banned travel from Europe to the USA, that option was dropped in favour of Australia. Imagine if you dare, a ship full of Americans and Canadians (with just a small number of Aussies and Poms) receiving the news that their world cruise had just ended at the midway point, off the African coast. Not happy Jan!!
We Australians were quite pleased with the decision since it was quite clear it didn't matter where we were supposed to be going on the set itinerary from here on in, all ports would close their doors to us, so rather than aimlessly wandering the seven seas, heading back to our home country was a wonderful decision for us anyway. Just a pity they didn't decide to go all the way round to Brisbane (from where we are now is just a few extra days around the top) so we could have driven home from the dock!! That's me, always wishful thinking, but it would also have been much easier to put the North Americans on a direct flight home across the Pacific from an east coast airport, rather than having to make an international transfer in an east coast capital city by flying out from Perth.
A problem most of them are going to have in any event is that since they were not thinking they would be flying at any point of their world cruise, a large number had brought on board heaps of baggage for 4 months living on a ship, way, way above the international baggage allowance. And then of course, what to do with those who are unable to fly for medical reasons, and therefor always take sea voyages; how to get them home?? That will be interesting.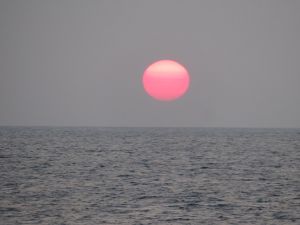 So yesterday the passengers had the time to fully digest their situation. I was asked to make representations that some of the passengers wanted direct charter flights laid on from Perth to their home cities; well I can tell you that didn't think that would fly so I just went through the motions knowing that LA were in control of the situation, not the captain or anyone else on the ship. To the credit of Princess Cruises, the company was being very proactive in dealing with a massive logistical nightmare, considering the number of ships involved, and at their entire expense including out of pocket extra charges such as excess baggage and ground transport.
This morning, the mood has changed. An uprising is about to be launched, led by a very vocal woman who has never been short of expressing her opinions on any thought bubble that explodes in her head. She has been button-holing every passenger and telling them that, since we are all virus-free, Princess Cruises is being irresponsible and putting everyone's health in serious jeopardy by landing them in Australia. She is engineering a mass protest among the North American passengers to be held in the Pacific Lounge this afternoon to demand that those passengers who don't want to land at Fremantle be taken directly back to North America on board this ship. At least she's not demanding that we avoid Australia! It appears that there is a growing swell of agreement around the ship and it is expected that about half the passengers will sign the petition this afternoon, the other half, including us, will go to watch the spectacle unfold.
On another subject, every thirty days it is maritime law that all passengers must attend an emergency drill, exactly like the one when we first board the ship before a cruise starts. Well, today was the day and it turned into a rather light-hearted affair. They always play a pre-recorded monologue about the emergency procedures and start off by welcoming everyone on board and wishing us an enjoyable and memorable cruise. Everyone in our emergency station in the Cabaret Lounge just burst into uproarious laughter, loud cheering and clapping etc. and from there on in it was difficult to maintain attention. Game over, memorable this cruise certainly is!
The petition organisers set the meeting today to be held in the large Pacific Lounge on the top deck of the ship, but had ignored the fact that there were dance classes scheduled in that room during that time, so the large herd of attendees were told that if they wanted to hold a personal meeting (not part of the ships' organised activities) they would have to go elsewhere. The internet café one deck down was chosen; it holds about 30 people max, so you can imagine the chaos. The remainder either gave up and left or stood outside in the hallway hoping to hear what was being debated from some distance away. That's a bit difficult when about half were holding their own conversations, expressing their own thoughts on what should be done.
The premise of the action was 1) they were involuntarily being placed in harm's way, 2) that they had contracted with Princess Cruises to embark on a voyage that terminated in the USA and that should legally be honoured (seems like no-one has carefully gone through the implied contract they agreed to when paying for the cruise). Apart from presenting a formal protest to the captain, other actions include not ever, ever booking another Princess cruise (wow! That should make the largest cruise company in the world sit up and take notice) and a handful of extremists were debating a sit-in when we get to Fremantle. Others want to initiate a class action against Princess Cruises. I think they have something of a challenge ahead of them. The arrangements being made for everyone upon our arrival in Fremantle are still to be announced, so we have been told to wait another day or so for more details.
At Sea Towards Freo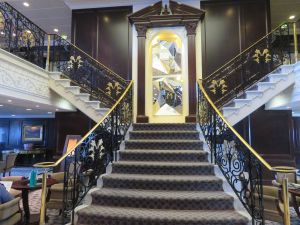 Well, the forms have been filled in and everyone had to file past the ship's Admin crew to lodge their details for their onward destinations to be arranged through the LA office and now we have to wait and see what flight bookings have been specifically made for each of us. For the 17 Aussies, this should not be difficult. Still, there are many groups of passengers sitting in huddles around the ship, passing on snippets of gossip they heard from someone who heard it from someone else, or discussing the pros and cons of what will happen on our arrival in Freo on Saturday. One juicy rumour that has just started its rounds of the ship is that the airlines are refusing to carry the passengers back to the USA, or alternatively Princess can't find an airline interested in a charter, and now all of the North Americans will have to sail back on this ship….let's wait and see if either of these has legs! At least we are not lost at sea, destined to sail the oceans of the world forever, just like the Flying Dutchman (one of my Unexplained Mysteries of the Sea series). Que sera, sera! – which translates into English as "yeh, whatever!"
The seas have been gentle and the skies a series of blue and grey interludes, until today when the skies have turned grey and the seas are classed as rough from dead ahead, so there is a little pitching, but honestly nothing to worry about. Nevertheless, there are barf bags along the hallways, public rooms, inside the lifts and staircases, but I don't see anyone reaching for them (yet!).
Yesterday morning at 6am, the time when I usually go up to the Panorama Buffet at the very stern on Deck 9 for my daily double shot cappuccino fix before breakfast, there was a crowd on the outside balcony at the stern all taking photos and oohing and aaahing. We had a brilliant double rainbow that seemed to be right behind us and reaching up into the sky; if you were stupid enough you could almost reach out and touch it!
Everyone is grateful that the quality of the meals continues to be very high, and the evening entertainers are really exceptional. There are two separate professional entertainer couples onboard (like us, they were meant to leave the ship in Singapore), and they have absolutely amazing voices. They take it in turns most nights to put on a new cabaret performance with the ship's professional dancers, and without exaggeration I have to say that they are absolutely top class. We are always disappointed when their shows come to an end for the evening. Even the Cruise Director PJ de Kock has a magnificent voice and gets in on the act as well. I'm just grateful that I still get a great audience to my lectures held each morning at 10am in the cabaret lounge – it will be 23 lectures done by the time we reach Freo, and I will be just about out of topics by then. I certainly wasn't expecting a 14-day cruise to Singapore turn into a 31-day circuit of the Indian Ocean! But, in my spare time I have been dreaming up a list of new topics to research and develop into lectures when we get home; I get the distinct impression I might have plenty of time to do them!!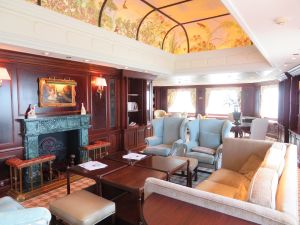 We had St Patrick's Day yesterday with all the colour and celebrations that go with that, including half-priced drinks in the afternoon. You had to be patient standing at the bar to order, suddenly everyone who had been avoiding drinking too much in case they had to sell the house when they got home were out there and the noise in the Pacific Lounge was at 110 decibels, well maybe that's a bit of an exaggeration! I think the knowledge that at last something positive was happening added to the party atmosphere.
For the crew though, things are a mixed bag. Some have been told that they will be staying on board for the voyage back to LA, but many are still to have their destinies determined one way or the other. Will their employment continue (as most anxiously hope will happen), or will they just be sent home without a job or much needed income for the next couple of months (or so)? And then there are those that are still working beyond their contracted time on board and are keen to see their families again and hope they will be sent home to them. We all expect to be told the specifics of ongoing arrangements in the next 24 hours.
I suspect with all the negative news we hear on board it might be more than just a couple of months before we step on a ship again. We haven't been told officially, but even Blind Freddie can see that our July gig to Tokyo will not proceed. We just can't see the Olympics going ahead as planned, the risks are too great. Anyway, it seems there are far greater issues for everyone to worry about at the moment. We know that many of you back home are about to face difficult times in business or just trying to keep safe from the virus, and our thoughts truly are with all of you.
Nearly Home!
We are so close to home now we can almost smell the gumtrees! So, now we are relaxing! We have received our confirmed flight details, leaving Perth early Saturday afternoon and back home in Brisbane 7:20pm. Julie is in great spirits with this news; me? Well just a little part of me will be feeling just a tiny bit sad to leave the ship and the beautiful ocean. I console myself with the hope that when things return to normal, I may be back! From what we are hearing from some of you, we'll have to be up early Sunday morning to replenish the pantry we ran down before leaving on this unexpected 31 day excursion around southern Australia and the Indian Ocean.
You can imagine the uplift in spirits all around the ship knowing that they are now organised to return to their families, but no doubt there will be those who expected business class or better for their flights home. I'm glad I don't work at the Guest Services desk (formerly known by the much more acceptable term, the Purser's Bureau).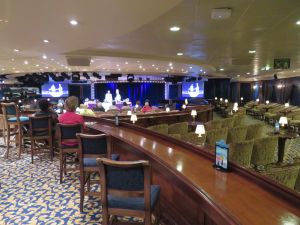 Princess Cruises now intend to allow a small group of people who are not medically fit enough to fly, or banned from flying under IATA medical regulations, to remain on the ship for the 28 day voyage back to Los Angeles. The ship's medical staff will assess each case and determine whether they qualify. We understand that means around 50-60 passengers will remain with the ship, and perhaps all crew. It will definitely be a no-frills voyage with limited entertainment and services. Passengers will be unable to leave the ship at intermediate fuel stops. One wonders, with the spreading shut-down of ports to cruise ships, even to refuel, whether this ambition will succeed.
This morning the Cruise Director organised a group photo around the pool of all the passengers and staff on board to commemorate "The World Cruise that only Got Half Way". We are all being given a copy to treasure for ever and pass on to future generations! Speaking of PJ (that's the monika the Cruise Director goes by) we reckon he is the best we have sailed with, and that is really saying something. Apart from his talents in singing, comparing and people management, he is rather gifted in that he speaks 7 languages fluently. I take my hat off to him.
Over the past few days I have had several emailed cancellations from Community Service Organisations and Historical Societies that had booked me for presentations during the times I had expected to be home, and that's not surprising (in fact a bit of a relief as they are usually older people (don't include me in that category – hmm, brackets within brackets, is that acceptable grammar?) and more susceptible to the virus), so whilst disappointing, perfectly understandable. In fact I have just read an email that even the Queensland Maritime Museum has closed its door for the foreseeable future so I expect my shoreside lecture schedule for the next 6 months or so will evaporate.
Arrival At Fremantle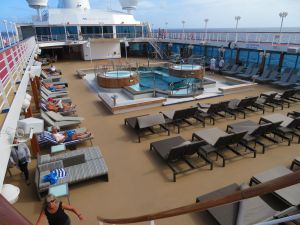 Well, here we are at 7am on the 21st March, and we are alongside the historic Fremantle Passenger Terminal. It's a fine sunny day, and the Amsterdam has just berthed behind us, and behind that, another cruise ship.
Breakfast over and our cabin for the past 31 days vacated, so we are ready to go home now! Everyone is gathered in the Cabaret Lounge and instructions are that we will be leave the ship in small groups and be taken ashore to go through immigration procedures as a small group, then meet with Border Force officials as a small group to be briefed on protection measures against the deadly Coronavirus that is now spreading across Australia, and also sign papers to agree that we understand the mandate to self-isolate at home. Next, clearance to proceed through Customs, then straight onto a designated coach and out to the airport. Those continuing with the ship will go straight back onboard for their rather protracted voyage back to Los Angeles.
Well, "the best laid plans of mice and men" as the poet wrote, has already gone slightly off the rails. Each group got as far as the terminal hall, and then everything seemed to come to a halt as the room filled up with each group being told to find a seat and wait. We Australians were pulled aside and told that when the total number of us, 17 were assembled we would be interviewed by Border Force and instructed about home isolation for 14 days, then sign an acknowledgement and be on our way to the airport. That would have been nice. And just in time to catch our 12:50pm flight back home.
After 2 hours, two things were obvious. Only 8 of the 17 Aussies had been identified, the others had just strolled through totally unaware, mixed up with all the other nationals who were now stalled in the main hall, going nowhere. And, as time slipped away it became obvious that we were going to miss our flight.
Finally, around 2 hours later the missing Aussies were located and brought back to sit with our group, and we were then spoken to by Border Force and a Government doctor about our obligations when we arrived home, then we signed a form of acknowledgement. At this point I realised that there was no way we were going to get to make flight and pointed that out to a Princess Cruises official who was thankfully attending our little group. She got straight onto the case and contacted someone who then moved us to a Qantas flight leaving at 2:45pm.
So the rest is history; straight through Customs, onto a waiting coach, checked in and up to the Qantas Lounge for a much-needed drink or three before our flight home to Brisbane where Geoff, an old school mate was waiting to drive us home with pre-purchased groceries. Hah, it's good to be home!
And so, after 18 days in isolation aboard a Coronavirus-free ship, our 14 day enforced isolation at home begins. But then, on reflection we did spend 4 hours on a flight home to Brisbane. Anyway, we no complain, we are just so glad to be back in our wonderful country.
A Voyage to Indonesia December 2019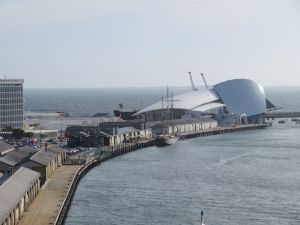 Here we are onboard the Sun Princess on a very hot, sweltering day in the Indian Ocean with steely blue skies overhead, and a carpet of deep blue beneath us. Next port of call Komodo Island the day after tomorrow.
Our officer cabin faces directly across from the captain's suite. Don't think for one minute that our little cabin is anywhere remotely like his! He introduced himself to us as soon as we arrived. We reckon he's a pretty grouse bloke coz as soon as we mentioned that the fridge was missing from our room, he was on the blower to someone, and a new one appeared within the hour. He had told us that if he couldn't find one, he would give us his, and we have every reason to believe him; he's that kind of bloke.
If you can imagine a long, wide sweeping bay shaped like a curved fish hook, then Geraldton sits on the tip of the barb at the southern end, with white sandy beaches curving away north into the distance is the shank, and a long range of tan coloured flat-topped hills following the contour of the coast immediately behind.
We pulled into the rather narrow box-shaped man-made harbour, only large enough to accommodate three bulk carriers and us – berthed alongside a grain terminal. The very friendly local Volunteer Welcoming Committee was on hand to greet and direct us to free shuttle buses to whip us out of the port area and to a public parking area close by. From there it was a short 10-minute walk into the centre of town, and I do mean town, as Geraldton is not really all that big. There is one road which follows the beautifully landscaped beachfront for a couple of kilometres, and one parallel narrow main street behind that with lots of small specialty shops and cafes. Sadly, I guess a sign of the times, quite a few are vacant. One arcade leads you to a small enclosed shopping mall sporting a Woolies and BWS, and several chain retailers such as Priceline, Katies, Reject Shop and Strandbags, and of course, a Flight Centre, but not much else. The Lenard's Chicken shop and several others stand empty and forlorn. Behind these streets it is mainly residential.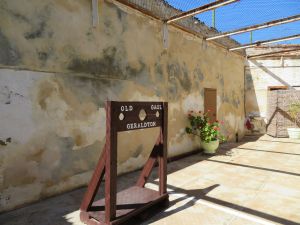 Last visit here several years ago we did everything there was to do around the town itself; the modern and very interesting Museum (with a great maritime section), the old Geraldton Jail, and of course on top of the small hill just to the rear of the so-called CBD sits the monument to the loss of the HMAS Sydney and her 645 crew in November 1941 at the hands of the German raider SMS Kormoran. A very large canopy made up of 645 stainless-steel seabirds (each representing a lost HMAS Sydney sailor) attached wing tip to wing tip sits above the memorial, and there is a stele in the form of a ship's bow, and a statue of a lady looking searchingly out to sea, waiting for the return of her sailor. Interestingly, her outstretched hand points exactly to where the remains of the HMAS Sydney were finally located in 2010, 10 years after the statue had been erected
The main attraction outside Geraldton is the day trip north to the Kalbarri National Park and the famous Pink Lakes. Some passengers who did it say it was well worth the long drive to see the Pink Lakes and Murchison Gorge. We might hire a car next time and do this too.
We departed the port at 6:30pm and set a northerly course, unfortunately too far off the coast to see anything, and now we have left Australia well and truly behind and heading for the middle of the Indonesian Archipelago.
Christmas Day was quite an affair if you wanted it to be, and the main focus was naturally on entertaining the 250 children onboard. The main atrium in the centre of the ship is decorated with lots of colourful stuff on each of the four levels, of course Christmas trees and a large display of gingerbread houses of all shapes done by the bakers onboard.
So far two of my eight lectures done and dusted, and a great attendance, particularly in light of all the competing events onboard this Christmas & New year cruise. This might be because they have been giving me prominent billing on the front of the ship's newspaper each day, and I am very grateful for that. The demographic is a lot younger than at other times of the year for obvious reasons, but still I have had a number of people say they have attended my lectures on other cruises and pleased to meet up again. Luckily I mix up my program of lecture topics to suit each cruise, so that avoids possible repetition and they keep coming back.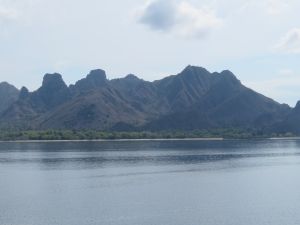 So, after 3 very relaxed days at sea in increasingly sweltering weather, we arrived at Komodo Island. A large, mountainous island, deep valleys rising high up to jagged crests from the sandy shoreline with its groves of palm trees. Many formations are quite spectacular in a stark way, mostly barren of anything but dry brown grass and the occasional scrubby trees here and there.
We anchored in a sheltered bay, a large passenger jetty just ahead of us cluttered with local open boats together with larger very Asian-looking timber 2 deck charter vessels that cruise throughout the islands, and our tender boats ferrying ashore those who were that desperate to get a glimpse of a Komodo Dragon.
We've been there twice before many years ago when it really was an adventure, landing in a small ships'zodiac and beating a path through the bush to where dozens of them lay dormant in a clearing, still asleep in the early morning cool before the sun warmed their bodies to a temperature that made them very agile, and hungry. That's when you beat a hasty retreat, they can move at 30kms an hour. As the shore excursion bloke on board said, you do not have to run faster than them, just faster than the person running beside you.
So, a rather lazy day was spent on board, much of it in lovely air conditioning! We saw two dragons from the deck through our binoculars cavorting in the water on a nearby beach, so that was good enough for us. Looking around the shoreline, there is a small village in the next bay where a couple of hundred Bugis people still live after many centuries on the island. Their houses are built on stilts with very steep steps up to the door to prevent dragons wandering in. Having said that, one child was taken a couple of years back and there have been several other attacks on people not being cautious enough. Even a bite is venomous and can lead to death. If you're still keen to go, you will have to wait a couple of years as the park is to be closed for restoration and regeneration from 1st January 2020.
We sailed at 6pm heading into a colourful tropical sunset, weaving our way between dozens of large and small islands (Indonesia has plenty to spare – there are 17,508 of them), with two pods of small black dolphins jumping and diving in our wake, both sides of the ship.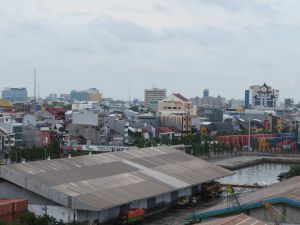 An overnight trip saw us arrive at the very historic city of Makassar/Unjung Pandang. It goes by both names; locals can use both in separate sentences! As we slowly made our way towards the port, we passed a lot of small, low sandy islands most of which were inhabited. Makassar is large, over 1.5 million residents, situated on a flat coastal plain with a high volcanic mountain range sitting behind in the middle distance. The history of Makassar goes back 800 years, and there is evidence that the Makassans visited northern Australia many times over that period for beche de mer (a rather revolting delicacy) and developed relationships with the local Yolgnu tribe of Arnhemland.
The city buildings are mainly low, up to 2-3 levels at most along a jumble of both wide and narrow streets. I started to count the number of Muslim minaret towers I could see across the skyline and gave up counting at 45. Yep, there were a lot more, but I was beginning to feel it was becoming a fruitless exercise.
There are a few newish hotel towers way off to the right in a more upmarket part of the city, but for the most part Makassar is rather ramshackle and grubby. Walking around the streets there is untold garbage waiting for the day it will be washed away into the smelly open drainage system that pours out into the harbour where it just sits on the surface of the water just gently floating backwards and forwards with the tides. Looking over the side of our ship, you can't see much below a couple of inches of crap.
Despite all this, the welcome to our ship was enormous; big banners were stretched along the wharf welcoming us; there was a troupe of entertainers dancing to gamelan music both inside the terminal and outside, and locals were handing out specially printed badges comemorating our visit. They rarely get a cruise ship here and it's a big event. All around the city everyone was waved to by locals and asked if they could take a photo of us on their phones, standing beside them. Apparently, we were a bit of a curiosity!
After a walk around the immediate city streets dodging bloody great potholes, cars and vans (there are no footpaths and vehicles just park wherever they like) and garbage, we made it back to the ship for lunch (just to be on the safe side). After that we jumped in a pedicab, a bicycle with a rather decrepit and very uncomfortable 2-seat open cab in the front. These are the main form of transport for the locals, they can be found on almost every street corner around the city and are used for both short and long journeys, and they are very cheap. This one took us to Fort Rotterdam, built by the Dutch when they ran the place 230 years ago. It is typical Dutch architecture, with a thick and high fort wall and battlements right around it. Inside is a collection of yellow buildings around the internal perimeter, a church in the centre, and all with red tiled roofs, oh yeh, and some gardens.
Here we were stopped by three students who had been set a project by their teacher to film and interview a selection of visitors on this auspicious day. We spent about 20 minutes with them whilst they asked about Australia and what we knew of Indonesia, all through an interpreter standing beside us. They seemed a little surprised that Australia is so multi-cultural, and that many Indonesians live in our communities. Also that we have such a diverse range of international cuisines, and that Indonesian food is very popular.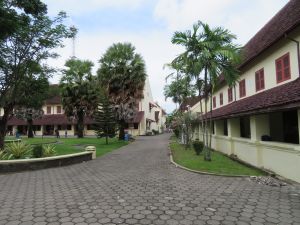 Another pedicab took us to a place where Julie had a one-hour foot massage for A$20 whilst I walked around the very busy streets. There is lots and lots of traffic and absolutely no traffic lights. And yet, it all works smoothly here! A lesson for us all methinks!
Back to the ship, and sailed at 6.30pm, once again threading our way past some low islands scattered across glass-like water as the sun went down. We sat on lounges at the stern of the ship, sipping cocktails and watching Makassar slip into the evening gloom.
And now another sea day, sailing due west to our next port of call, Semarang. During the day we passed a number of oil rigs sitting up on tall legs out of the water, and at 2pm we crossed paths with the Sapphire Princess as she headed for Bali. As you might recall, we recently left her after a voyage from England.
Well, after a peaceful crossing of the Java Sea, we arrived at the very large and busy city of Semarang, population 4.2 million. The city sits on the mid-north coast of the central Indonesian island of Java, and its history goes back 900 years. Another of those cities ruled by the Dutch during the 17th to mid-20th centuries, before Indonesia won its independence in 1945.
Again, a low-profile city that sprawls forever both ways along a narrow coastal plain with the volcanic mountains in the background right behind. The large port area is very industrial, and again the water is disgustingly filthy with garbage floating around on the surface in every direction. The other big issue here is that the docks have been slowly sinking for some years now and at high tide the water was spreading a couple of feet deep right across the whole wharf area. But apparently no worries now, they have laid a single line of sandbags haphazardly along the dock aprons, so I guess that fixes that then! Once again very few cruise ships call in here, so we berth at a rather run-down container wharf with a shed outside the gate housing an area providing free wifi for visitors, and a small market room selling souvenirs, clothes and other nick-knacks.
Fortunately, a free shuttle bus service operates between the dock and the city centre, well actually the main shopping mall really, and the 5km drive can take anything from 25 minutes to an hour, coz the traffic mess has to been experienced to be believed! Yes, there are traffic lights but apparently only for decoration, absolutely no-one obeys them; it's a free-for-all with long lines of cars, buses and millions of scooters (think Vietnam) just everywhere slowly inching their way forward. Crawling along one-way roads 3 - 4 lanes across each side of the median strip, changing lanes continuously without indicating (I think they may have all gained their licences in Queensland) as they try to find one that goes 2 kms p/hr faster than the one they are in right now, and when you get to an intersection, well you just close your eyes and nudge your way across as carefully as you dare regardless whether the lights are with you or against you, the traffic on your right also stationary across the intersection and refusing to let you through, not to mention the bum-fight as another two lanes of traffic entering from another direction attempt to merge into the intersection at the very same time. Don't think I will ever bitch about Brisbane traffic ever again!
The city, just like Makassar is mostly an endless collection of run-down buildings with lots of garbage out the front, narrow laneways consisting mainly of little cottages and jammed with scooters and old cars out the front. The "Old Town" between the port and the CBD is littered with ancient Dutch colonial buildings which, if any attention was paid to them, might look quite delightful but at the moment look quite sad and unloved. The streets are lined with food vendors, either offering culinary delights from old wheelbarrows, or gloomy, temporary shanties right on the verge of the road itself, with an old and torn blue plastic awning over to protect the customer from who knows what. Several old and faded plastic chairs invite the customer to "dine in". Judging by the heaps of dormant bodies laying in every conceivable position and location around the city, surely the food can't be that bad, or maybe it's just the incredible heat of the day that is the reason they're having a kip.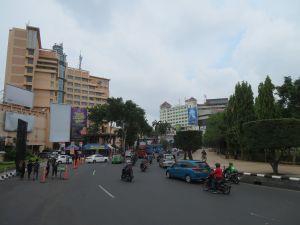 Within the CBD, or at least the vast square defined by a four-lane racetrack (well if the traffic tangle would allow it) surrounding it and sporting a public garden in the centre, sits a number of more modern high-rise buildings including the three-level shopping mall where we were deposited. This was to be our entertainment for a couple of hours as there is very little to see within the city itself. One observation we must make at this point; Indonesia is for the greater part a deeply religious Muslim nation, and yet throughout the shopping centre and around other areas there were banners wishing everyone a "Merry Christmas" and in the mall carols were being played everywhere. And yet, in our own country there are those who demand that Christmas be downplayed or ignored in case some may be offended! Go figure.
The main reason people visit Semarang is because it is the gateway to the ancient Buddhist temple of Borobudur located up in the mountains, a 3 hour drive from the city. The mammoth multi-level temple was buried under a mountain of volcanic ash for almost a thousand years and origanally took around 30,000 workers around 100 years to construct. So much for the stats, apparently it is awesome and the thousands of stone carvings around the perimeter preserved in perfect condition due to the ash covering it for all those centuries. Those that took the tour were amused by the police escort in front of each coach, there and back, blaring their sirens to get locals to pull over to the side of the road. Apparently, if the cops hadn't cleared a path through the heavy traffic, the trip could have taken many hours longer!
So, by mid-afternoon the hazy skies were getting even darker and just after we got back to the ship the rain started, accompanied by sheet lightning and the odd thunder roll. At least it was some relief to the thick humid climate we have been experiencing, so we rescued a bottle of bubbly from our fridge and sat under shelter out on the pool deck and mused about what 2020 would bring. We gave up being party animals many years ago, so we rang in the new year with thunderous snores!
And so, here we are, New Year's Day and sailing eastwards along the coast of Java to our next port of call, Lombok where we will arrive tomorrow morning. Bali the day after that, then we turn southwards for Fremantle, three sea days and three lectures away from our final destination. Pleasantly surprised this morning, a very good roll-up for my morning lecture, I really thought I would be talking to myself given the celebrations going on last night around the ship.
So here we are, approaching the beautiful island of Lombok, near-neighbour to Bali just over there on the other side of the Lombok Strait. We entered the very narrow passage that opens into a smallish harbour, the brand-new cruise wharf and half-completed terminal directly ahead of us; a number of rather unloved and dilapidated inter-island car/passenger ferries and cargo ships rotting away on moorings to our right. The long concrete cruise wharf parallel to the shoreline has just opened, work taking a mere 8 weeks. The two-level terminal building a skeleton with a roof at this stage but give it a few weeks. And to think, the new Brisbane Cruise Terminal took 12 months of planning before work started 6 months ago, and if all goes well, will be opened by late October this year (2020).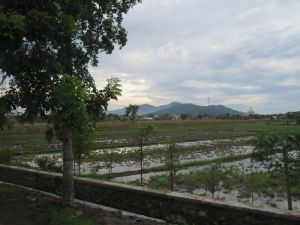 The first thing that really strikes you about Lombok is the thick lush greenery all over the hills and along the coastline, and that remains as you travel the roads from the south of the island where we docked, all the way up to the north end. Speaking of roads, Lombok is very laid-back, as they say, "Bali before the tourist invasion 30 years ago". Traffic is far, far lighter than Bali (or anywhere else in Indonesia for that matter) and moves at a leisurely pace. So leisurely, that even the large number of donkey-drawn carts that are used for local transport have no fear of other traffic sharing the roads.
Julie elected to have a day relaxing on board and I escorted a ships' tour group to see the cultural sites of the island for the day. For the first 45 minutes from the port, we travelled along a winding narrow road alternating between thick tropical bush, numerous small villages and many, many rice paddies where there was any flat ground, towards the capital Mataram. Now I know that 22 years can be considered a long time, but the Mataram we visited then is nothing like the Mataram of today. Back then it was a fairly small run-down town, mostly dirt streets and the most disgusting town market you could imagine. You could smell it long before you reached it, and don't get me started on the flies! Shabby little shops lined the few streets in the central area. But not today! It has a population of just under half a million, good sealed roads, modern shops for the most part, and some beautifully landscaped parks.
Our first cultural hit was the Lombok museum, a very modern complex set in a lush tropical garden setting. Apart from all the usual historic local artefacts you see in most museums, there was a very interesting display, including scale models, of the volcanic geography of this small island that you may remember suffered a catastrophic eruption at Mount Rinjani a couple of years back with the loss of around 1,400 people and mass destruction of infrastructure. All of that has since been restored, and life goes on.
Next on the agenda, Narmada Water Palace, a large park-like area with many small lakes and a Hindu temple constructed in 1727. It is a place that the locals go to spend some leisure time, particularly so as it is the last week of the 2-week school holidays in Bali. Interestingly, students start their 6 years of primary school at 7 years of age, attending from 7:30am to 1:30pm 6 days a week. Only if you are smart enough and have parents with enough funds do you progress on to secondary school and then on to university.
On the road again, and a stop at the large Hindu temple at Lingsar, the largest and most revered on Lombok. Constructed in 1714, it is a place of worship for both Hindus and Muslims. There is a small pond here, the home of a sacred eel that only appears when pieces of boiled egg are thrown onto the surface, a rather unlovely piece of work it is too!
I just know you are hoping I might make comment on why the Hindu statues have black and white checked cloth wrapped around them, well I'm glad you asked! The two colours represent good (white) and black (derr, evil) and are in equal proportion on the cloth and in the world according to Hindu belief. Clearly, they don't represent politicians.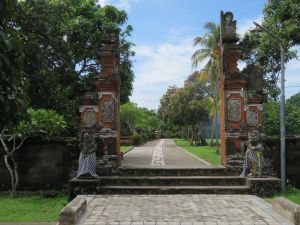 And yes, you are keen to know why Hindu temples have those walls around them with open entrances guarded by two high intricately carved columns and a ferocious statue each side, and a series of steps to negotiate. Well! You really are keen to learn something new! These gateways prevent evil spirits from invading the temple; apparently, they can only travel at surface level and when they hit the steps, they are stopped in their tracks. Clever, hey?
This particular temple is open 24 hours, and there is always a priest on hand to supervise those who feel the need to cleanse their wicked souls in the middle of the night.
Then off to Lombok's premier beach resort area, Senggigi Beach for lunch at a hotel set in beautifully landscaped tropical gardens, the modern bungalows scattered throughout. The open-sided restaurant sits among palm trees right on the beach with views out to sea and along the coast. We were told that a bungalow for two is $70 per night; seemed rather cheap for a 4.5 star resort, but then this is Lombok. There are several more hotels along this strip than there were 22 years ago, but it certainly hasn't suffered the explosion of resorts experienced over on Bali; in fact the shopping strip along the road back from the beach seems to have decayed somewhat, it does look a little tired.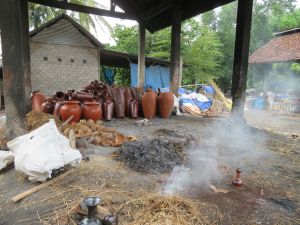 And then off to our last stop, the pottery village of Banyumulek. The coach parked in a designated area outside the village and we all hopped on to little carts (2 in each) pulled by the usual donkeys, for the bone-shattering 7 minute ride into the village centre where we watched how the locals (all women) squatted in front of small square pieces of flat wood, moulding and shaping the different pottery items in this rather run-down place they call home. Living conditions are rather primitive, homes just small cramped huts really with no privacy, and a network of slushy mud paths throughout. I'll say no more. An hour's leisurely drive back to the ship, and we sailed at 6pm.
Next morning we anchored off Benoa Harbour, the port for Bali, and watched the ex-cruise ship of many earlier names and now named the Peace Boat "Ocean Dream" negotiate the narrow twisting channel into the harbour. She is half the tonnage of Sun Princess and therefore just small enough to enter the port and dock alongside the cruise terminal. This is the very same ship that was in front of us as we sailed down the Suez Canal just over 6 weeks ago. The vessel is owned by a Japanese organisation that sail her around the world promoting peace and understanding between nations. I think they still have an insurmountable challenge ahead of them!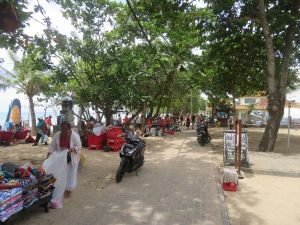 This time Julie was given the job of escorting a group ashore for a tour into Kuta, and of course I tagged along. We did the usual thing negotiating the streets of this very busy resort area, dropping in to shopping malls and lunch at our favourite restaurant in Kuta Square, the Dulong, that's been there 25 years now and is consistently good and cheap!
One thing I have noticed about Bali's branded shops like Polo, Sketchers, Strandbags and all others that are familiar names in Australia, their cheapest prices now seem to be the equivalent of those in OZ, just like Singapore. If you want to buy really cheap you have to either go to the Indonesian-owned Matahari's department store or negotiate the laneways of small stalls with their "knock-off" goods and take your chances on quality. Still, Bali is unique and has an air of colour and movement. For the most part it is a resort island that caters for everyone. We enjoyed sitting at a roadside restaurant bar (of which there are literally hundreds), people-watching over a drink. The footpaths are crammed with them (bars and people)! We are here again in early March to do it all over again on our way to Singapore aboard another Princess ship.
And so, here we are on the last day of our homeward leg to Fremantle. Three days at sea, and the first two rather fun with a 3-metre swell with long troughs between each wave, driven by a tropical low off the coast of Broome. It is forecast to develop into a category 2 cyclone by tomorrow. There is no greater excitement known to mankind than to stand at one end of the ship and watch her see-saw between the troughs!
The days have been hot and sunny, and my lectures have been very popular and that's all I can ask. Julie too has (as she usually seems to do) made lots of friends with the crew of all ranks, in particular on this ship the captain and staff captain, who seem to always go out of their way to chat with her. In fact, this morning the captain, being Italian, gave her a goodbye peck on each cheek in front of a whole lot of very jealous passengers!
And so tomorrow it's farewell to Sun Princess until we board her again in April.
A Voyage from Southampton to Dubai November 2019
Well, here we are again aboard the Good Ship "Sapphire Princess", retracing our steps from our epic adventure March/April this year when we sailed from Singapore to Southampton aboard the same ship delivering a series of 12 lectures, but now in reverse as she does her repositioning voyage back down to Asia. We do love this ship and were very happy to be invited back onboard.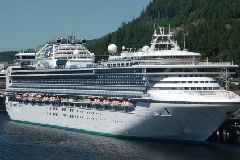 Perhaps the most trying part of the journey on our way over to England to join the ship was the 14 hour Qantas flight from Singapore to Heathrow, truly a flight from Hell! Can't blame Qantas though, just our bad luck. A flight of pure misery at the hands of a large obnoxious drunk of the Pom variety who was seated between the two of us, continuously knocking back spirits, wines and beers until he became a total problem, belting us both in the ribs whenever we were thoughtless enough to try and take a nap and yelling across the aisle at a woman he had never met before. He was accompanied by the strains of two babies directly opposite who would take turns screaming their heads off most of the night. The orchestra was accompanied by a guy sitting behind us coughing his heart out and sneezing constantly without ever covering his mouth. A trifecta of misery. God, how we love flying, not!!
Unfortunately the Qantas hosties refused to shoot the guy coughing over us, but towards the end of the flight they did force the drunk to take a seat right at the back of the plane so they could readily subdue him when necessary. Anyway, we arrived alive, but very sleep-deprived. And you wonder why we prefer sea travel??
Boarded the Sapphire Princess on the 31st October in Southampton and allocated a great officer cabin with two portholes so we can see the world pass by. I have 12 lectures to do on this 26 day cruise to Dubai.
The one thing you have to take into account when venturing abroad (or at home) is that things can change in the bat of an eyelid…and they did. We were due to cross the Channel to our first port of call, Le Havre France , but all that changed when the captain announced before departure that a very severe storm was heading from the North Atlantic for the Bay of Biscay with very high seas, so in order to avoid the worst of it we were heading at maximum speed straight for an unscheduled port, Vigo in northern Spain. The Biscay crossing was somewhat choppy by our standards, but no doubt more colourful descriptions were spread abroad in emails by many of the passengers.
Sunday 3rd November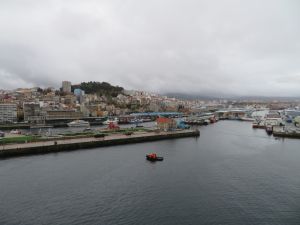 Vigo turned out to be a big plus…a very attractive city, wide clean streets with narrow laneways leading off, attractive Spanish style granite buildings abound and all the Christmas decorations are up. Vigo was first settled by the Celts over two thousand years ago, and true to that great compulsory European tradition, was invaded by successive armies over almost two millennia, leaving a ring of castles on top of the hills that surround the wide bay on which the city and environs sits. One of these castles is directly above the city centre, a steep climb up but worth the effort for the views down into town and across the bay….click click! One thing that stands out from there is the presence of a huge fishing industry, there is a whole separate port with huge trawlers dedicated to that industry, and as you sail from the entrance to the bay and the city itself there are heaps of oyster leases laid out in rows. Seafood is definitely the thing here.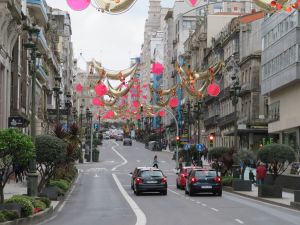 Monday 4th November
A late night departure, and spent the next day at sea lulled by the gentle roll of the ship as we glided over a large Atlantic swell from the storm up north of us. We arrived at the truly beautiful city of Lisbon in the late afternoon. The journey from the ocean up the Tagus river is just spectacular, passing the 14th century Belen Tower, a boot shaped fort from which Vasco Da Gama departed to find a course around Africa and to India, there to unfortunately to meet his fate in Cochin. The city and suburbs sits on the left bank as you progress up river.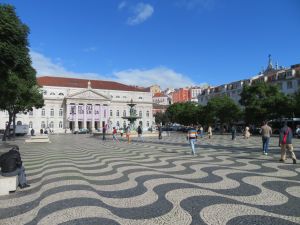 Under the huge bridge that spans the Tagus (identical to the Golden Gate Bridge because the same architecs and engineers built it) connecting the southern shore with the city, and a swing around to park right at the foot of the city centre. Overnighted here and went ashore to explore the city itself as on last call back in April we did the Sintra and Cascais thing. So glad we did that then, and highly recommended for anyone visiting Lisbon.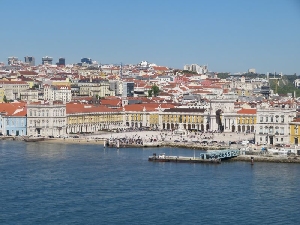 We realised the last time here that Lisbon CBD deserved far more than just a fleeting visit, so that is how we spent our day this time, wandering the narrow streets and laneways, camera on fire! Lisbon is world-famous for their little custard tarts so we just had to try one of those each. Not sorry, but now have to commit to extra exercises to burn it off. That certainly didn't include forcing ourselves to climb any of the steep streets that lead off the centre of the city in all directions as Lisbon CBD sits in a narrow valley surrounded by seven hills. On one side of the city there is a very ornate wrought-iron lift, designed by Gustav Eiffel which takes pedestrians up about 50 metres to another commercial quarter of the city. The other wonder is that the whole city is paved, roads and footpaths, with small granite blocks, about 10cm square. The mind boggles at just how long it would have taken to lay so many millions of them!
Large square ceramic tiles are a big thing here, adorning many of the walls of buildings with wonderful patterns, part of the Portuguese heritage handed down through the ages. Well, ever since the mid-1700's after a strong earthquake and then a tsunami destroyed 90% of the city and 60% of the population.
Tuesday 5th November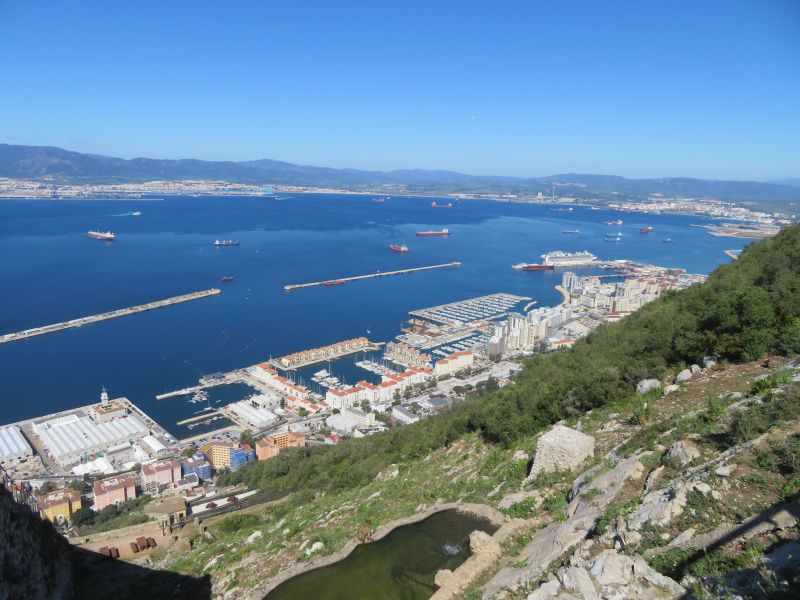 Overnight and a half day to reach Gibraltar, berthing there at midday. Transited from the Atlantic into the Mediterranean through the famous Straits during the morning in glorious sunlight, the rugged brown mountains of North Africa over on the right, and the steep green hills of Europe rolling away from the coastal plains over to the left. It is fascinating that two entirely different landscapes can be so close together!
Because Gibraltar is so compact, we managed to cover everything of interest during our last visit here, so this time we took a walk into the really narrow main street and strolled the 1.5 km length to the Trafalgar cemetery where the bodies of about 100 sailors who succumbed to their wounds during the famous battle are buried. Here we came across three of those very famous Barbary Apes that live up the side of The Rock, but have the freedom to wander into town when they feel like it. They were hanging around a rubbish bin and one of them was dragging anything that looked edible out and getting stuck into it, bread, banana peels etc. Clearly not a fussy eater.
Legend has it that if the Barbary Apes ever leave The Rock then Britain will lose Gibraltar to the Spanish (who so desperately want it back). We were told that during WW2 their numbers dropped alarmingly, so Winston Churchill arranged for a whole group of them to be flown in to increase numbers on the Rock. Consequently, those apes can do absolutely no wrong!
Gibraltar also has an upper and a lower street running parallel to Main Street, the upper mostly residential and the lower a very narrow lane way with smaller shops and restaurants, particularly in the Irish Quarter, but still, Main Street is the commercial heart and closed off to traffic. The thing that struck us though was that it seemed to be just crowded with duty-free shops, jewellers, shops selling watches and electrical items, bottle shops and the occasional women's clothing store. Oh yes, and a few English pubs selling bangers and mash and fish 'n chips. A bit boring after a while really. We sailed at 10pm for our next port, Barcelona one sea day and lecture away.
Thursday 7th November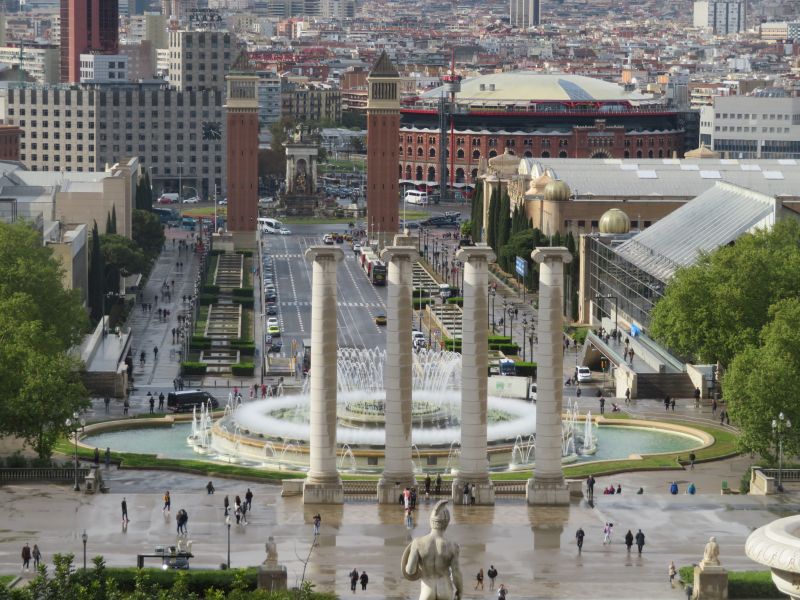 Well, apparently we really dodged a bullet with the foul weather chasing us eastwards! We have seen on the BBC Weather report that seas in the Bay of Biscay are now ranging up over 30 feet, and overnight even the Gibraltar Straits coping 20 foot seas. We are just ahead of this major front so Barcelona yesterday and Toulon (France) today, we have had sunny skies but cold winds.
So now, about Barcelona. Let me start by saying that it is another beautiful city, and one that you could explore for many days. Last visit we did the tour coach thing and saw several of the major "must do's" whizz past the coach window, so this time we decided to explore on foot.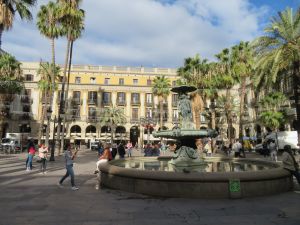 The port is so large that you have to take the ship's shuttle bus to the port gates, a 5 minute ride, and that will be A$8 return thank you very much. Imagine how aggrieved we were to see that there was also a port bus doing exactly the same thing for almost half the price right outside the terminal front door. Guess that's why we were told you had to buy your ticket whilst still inside the terminal. Anyway, a good night's sleep and we got over it.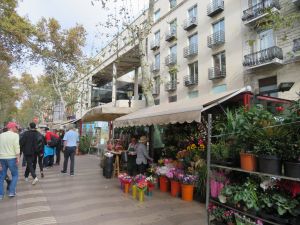 Las Ramblas is the famous boulevard that runs right up through the city from the Columbus Column that stands very close to the port entrance, (think Spain's answer to Nelson's Column in London). That's the one that has Columbus pointing the wrong way. He was originally meant to point towards the Caribbean coz that's what made him famous, but someone realised that meant him pointing over a mountain range which struck people as being rather stupid coz he voyaged over the seas, so they turned him around, but the opposite direction to that of his discoveries. Anyway, I digress.
What makes Las Ramblas so unique is that it is a very wide, tree lined pedestrian thoroughfare with a single lane of traffic on the side of it in each direction, and between those narrow roadways the pedestrian tree-lined boulevard meanders for about a kilometre with heaps of open-air cafes, flower stalls and chinzy souvenir stalls. It is all quite beautiful really, and separates the old city on the right, from the newer city on the left.
The old city, as you might imagine, is really the highlight. Narrow curved passages lead off in all directions with 17th and 18th century buildings mostly about 3 storeys high. The street level frontages contain all sorts of interesting shops, cafes and step-up bars (the Spanish don't mind a quick tipple either/and on their way to work or going home), and above that rows of apartments with shuttered windows and narrow wrought-iron balconies, many with potted flowers or hanging vines. You wander this maze, and every so often it breaks out into a beautiful plaza with open-air restaurants around the perimeter and the obligatory fountain in the middle. Look up, and you will notice that above the top residential floor round dovecots have been included in the roofline to house the myriad of doves and pigeons that inhabit this city. Take your choice of laneways leading off that plaza, and invariably you will run into another one leading off somewhere else, just as quaint and beckoning you to explore it too. You can spend hours just wandering the laneways and somehow not get lost.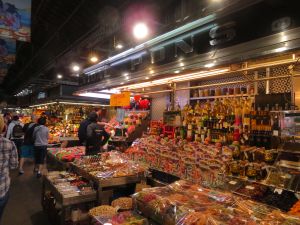 And so looking over to the left hand side of Las Ramblas there is a greater semblance of order. Tree-lined streets of more modern apartments criss-cross each other, actually a bit boring really by comparison. Part the way up Las Ramblas on the left-hand side though is the fabulous city market, all under cover and been there since the 1800's. Inside it's all splashes of vibrant colour with fruit, confectionery, seafood, meat, fresh juices, nuts and spices stalls (and much, much more) all beautifully displaying their wares. There are even a few bars where you sit up at the counter and order some tapas and vino or beer. All fightfully civilised really.
We found a small café a block away from the main drag where prices were just that little less expensive, and washed down our meal with a jug of sangria, made with chilled red wine, a dash of lemonade and heaps of fruit, very, very refreshing, and one might say addictive. So much so, that on the way back down Las Ramblas in the afternoon we decided to stop for another at an open-air café. We were asked what size we wanted so we each opted for the medium size which arrived in a bloody huge glass bowl with a thick stem to support it. I think the large size might have been served in a bucket!!
The beauty of having a drink that size is that you get to sit and people-watch for quite a while. There was a constant stream of humanity passing in both directions, and it appeared to us that almost every country in the world must have been represented. The down-side of sitting in the one spot for too long is that you get bombarded by our North African friends, of which there were so many, refusing to take no for an answer when they thrust a bunch of beads or a wooden carving in your face and demand that you buy it. Sailed at 6pm, leaving two passengers behind who missed the ship. We wonder if they will turn up at our next port, Toulon.
Friday 8th November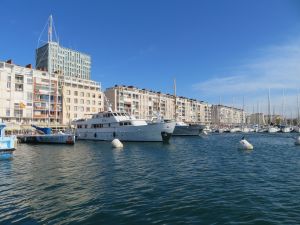 The city of Toulon sits on a large but sheltered harbour with a numerous little bays. Behind the city is a mountain range around 1,000 feet high with many grey broken cliff faces and sparse vegetation. A cable car goes up the side of one of these cliff faces from the city, but the wind was too strong for it to operate today. This area is known as the Aix-en-Provence region of southern France, and is very close to Marseilles.
There is a very big French naval base here (has been for many centuries) and many naval ships including two aircraft carriers are in port. It is also the port for large overnight passenger ferries to Corsica and Sardinia. The local population numbers 500,000.
The cruise terminal for large ships sits across the bay from Toulon city at La Seyne -sur-mer, and it is a 10 minute ferry ride from here across harbour to the Toulon waterfront, home to many sickenly-large private motor yachts. Ooooh, to have that much money! But nah, the yacht we are on at the moment is much larger!!
Talk about price gouging! We were told that the quickest way to get over to Toulon was to buy a return ticket on the ferry that will take us across the harbour for a mere A$47 per person return. We smelt a rat, and found for a 10 minute walk from the dock we caught the local ferry for A$7 return. You just have to be two steps ahead of them sometimes!
Arriving at the picturesque Toulon waterfront with its long line of restaurants facing over the marina, we found the petite train (a motorised pretend engine with 6 carriages behind), and for 7 euros (A$10) you get a one hour trip around the city which is very useful for getting you bearings as we haven't been here before.
The city has a number of beaches outside the city centre, around the various bays, but this is not what you would call a tourist resort town. It is clean and attractive in its own way, with many narrow streets just wide enough to accommodate one car and pedestrians, and the obligatory number of small plazas between them. For lunch we had the "plat de jour" of prawns and pasta in a sauce provincale (tomato) for A$18 each, washed down with a carafe of local wine, after which to our surprise we discovered that we can now speak fluent French!
It is now 30 minutes to sailing time, and it has become dark and the lights of the French naval fleet are shimmering across the bay, and the lights of Toulon behind that. Tomorrow the Italian port of Livorno, and we have a crew deal for a trip to Florence for the day. The next day after that we arrive in Civitavecchia, the port for Rome.
Saturday 9th November
Well, our luck with the weather seems to be following us. Arrived at Livorno (Italy) and the first thing we were told after we boarded the coach for the 1.5 hour drive to Florence was that it had been raining very heavily and non-stop for 10 days straight, and today was the first that they had seen of the sun, in fact it had only stopped just before we docked. It was quite obvious too, as we drove across the coastal plain to the hills between us and Florence, the farmland on both sides was saturated, sheets of water with nowhere to run off. The grass that sat above water was an incredible vibrant green and blended beautifully with the stands of pencil pines so typical of Tuscany, and the wooded forests of trees in their last throws of colour before winter. And in the distance, the jagged Apennine Mountains were covered in a startling white cloak of snow gleaming in the sun.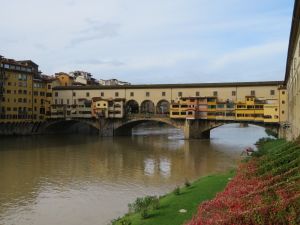 Rolled into Florence at 10am. Coaches have to park beside the river Arno, just outside the perimeter of the old section of the city, a maze of narrow cobbled streets leading off everywhere from the Piazza San Croce, one of the larger squares around Florence, and surrounded on three sides by leather and jewellery shops and restaurants sporting open air seating, and with apartments on the two levels above, looking just like they would have several hundred years ago. All with shuttered windows and many with painted frescoes faded by time on the face of the buildings. On the fourth side of this piazza stands the very imposing and beautifully decorated Santa Croce cathedral, only outdone by the world-famous Duomo – but more of that later. Florence is the official home of the Italian language, just as it was spoken in the 14th century. It was established as a military camp by Julius Caesar in 59BC, and as they say, the rest is history!
Off we went to do our own thing for 6 hours, meandering through the winding lanes and thoroughfares with other visitors to the city, literally from all over the world. Florence is a mecca for history buffs, culcha vulchas, and art-lovers, and for those who just want to brag that they have been there – don't look at me when I say that!!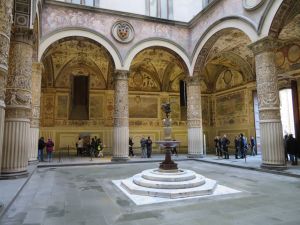 First stop the Uffizi Museum, also home to a statue of Michelangelo's David out the front and some other fantastic nearby statues worth a photo for their amazing detail. The enclosed interior courtyard of the Uffizi just has to be seen for the incredible art on the four surrounding walls, and the exquisite and colourful detail of the surrounding columns around the interior. A serious visit to the museum itself could burn up many hours.
Nearby is the Ponte Vecchio bridge over the Arno river, the colour of which is very reminiscent of the Yarra (sorry you southern Mexicans!) and running fast due to all the rain. The bridge housed a string of butcher shops back in the Medici days, but they objected to the strong smell as it was on their way to somewhere or other, and so they ordered that only Jewellers be allowed to have shops along both sides, and so it is today, all these hundreds of years later. Yep, they had that much pull in Florence in those days!
I started to get the shakes when Julie began to take an unhealthy interest in the jewellery shops, but being a quick thinker, I got away with it by diverting her attention to the view from the bridge itself, which was way, way better (and cheaper) than looking at all that expensive glittery stuff!
More wandering around the twists and turns that are set to confuse visitors to this city, until I finally had to admit we were lost! Never fear, it is amazing what lots of waving and hand gestures will achieve when asking a local for directions to our next "must-do" site, the Duomo.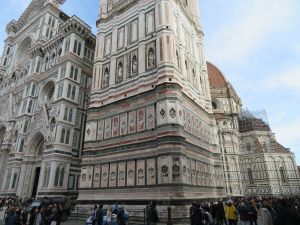 I have said it before, and I'll say it again; this building is absolutely stupendous (I think that's a word?), the intricate art-work that covers the many faces of this breath-taking edifice just has to be seen to be believed! Truly unique in a continent that is over-stuffed with churches, just Google it and you will see what I mean! (I'm starting to notice I'm using way too many hyphenated words, must stop it!!) A glass of vino at an outdoor restaurant on the Piazza San Croce, a quick look in a couple pf leather shops just to be disappointed that prices are about the same back home, and then a 75 minute coach ride back to the ship.
Sunday 10th November
Today we berthed at Civitavecchia, the port for Rome, just over an hour away. Again, we arrived to sunny skies, the first they had seen in days. We did Rome in a Day in grand style on the voyage to the UK in April, so decided this would be a relax day instead. I did go ashore for a couple of hours walking around the city that had been a major port for successive invaders over two millennia. Not much to recommend it as a destination, the city was flattened by the Allies during WW2, so a lot of history reduced to rubble. Fortunately they have an interesting museum which displays a lot of relics that were exposed after some of the bombing raids the city endured.
Monday 11th November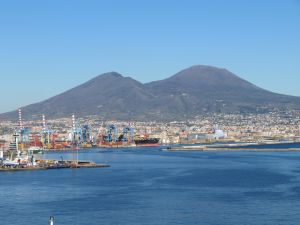 Today we did Naples. Once again, did the interesting things like Sorrento, the Amalfi coast and Pompeii on the way over, so decided to walk into the city itself for the morning; it's laid out before you after passing through the very large passenger terminal, built by Mussolini in the 30's as a monument to his magnificence. The very spacious terminal interior houses a host of gift shops and an interesting display of photos of famous actors and actresses disembarking from ships in the 50's and 60's to do the European trip thing. In a kind of reverse position, it also records the departure of migrants over the same period escaping the ravages of post-war Italy to find a new life overseas
Unfortunately the terminal was the highlight of our visit to Naples. We took a walk into the city centre, did an about turn after an hour and a half, and headed back to the ship very disappointed. Naples is disgustingly dirty, even the buildings are grubby and run-down (and mostly boring). Garbage of all varieties all over the footpaths, up dark and narrow laneways, absolutely everywhere! Traffic very congested and traffic lights are there just for the amusement of drivers, there are no road rules. Nup, you can keep Naples. There's a very old saying "see Naples and die", never thought much about it until now.
So, just about to depart for our next port of call tomorrow, Messina. But just got a call from the Entertainment Officer, due to dirty weather down there we are having a sea day instead, so I'm on at 1pm tomorrow afternoon. Not at all sorry about the change, we are going to beautiful Santorini in the Greek Islands instead. Yay!! We called in there on a Mediterranean cruise with Andrew and Rachel many moons ago and absolutely loved the island, so more on Santorini and the historic island of Rhodes the day after that.
Tuesday 12th november
WOW! What a difference a day makes! The Captain made a speech last night apologising for the fact that our next destination, the Port of Messina in Sicily will be closed to shipping for the next 48 hours due to extreme weather conditions, and to be prepared for a rough night and all tomorrow as we divert to the gorgeous Greek island of Santorini as an alternative, arriving the following day.
Yep! He wasn't exaggerating, we have had a wild ride the whole of the day and as I sit here writing this I am trying to make my fingers hit the right keys because everything is all over the place. If you were drunk it would be a great cover story, no-one can possibly walk a straight line and one minute you are running downhill, and the next struggling uphill. Using the stairs is an absolute challenge. The captain has announced that we have dropped our speed right down to keep the ship safe so may be late in arriving at Santorini tomorrow.
Expected very few to turn up to my lecture on the history of the Suez canal this morning, so imagine my surprise when 800 filled the theatre to join me in the thrill of a roller-coaster ride whilst I kept my balance by holding on to the lectern! Wind speeds have been howling up 135-150 km/hr all day and the grey seas just a huge mess of white water as we plunge from one valley to the next, whipping a heavy spray in all directions. Skies are murky grey and black, and constant showers keep sweeping through. Sea spray sweeping past and up over the ship as we negotiate each wave crest. The ship slams against the oncoming wave and shudders violently as we hit it. Man, I tell you, this is really living!! Anyone feeling queasy yet? Enough of that. We had a great day because we are perverse.
Wednesday 13th November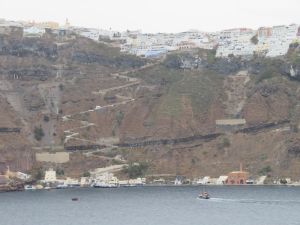 Woke up to smooth seas as we approach the Greek island of Thera, on which the township of Santorini sits, still grey skies but the chill has gone at last. Passed several large and small islands each sporting at least one clump of little white villages, mostly sitting on the top of the highest point and you can clearly see a white stone track zig-zagging down the face of the hill from each village to the shoreline and stone jetty below.
We arrived off Santorini at 10:30am, sitting up there high above us and clinging precariously over the edge of very high and weather-beaten cliffs. The harbour is sheltered by several smaller islands forming a kinda ring around us, again each with their villages, and the nearest to where we anchor an uninhabited low volcanic island with its mantle of black volcanic ash and pumice stone, giving off a rather acrid smell, unless that was the person standing beside me at the rail. The harbour is actually a sunken volcano crater that collapsed at some distant time past.
Really impressed with the flotilla of tender boats the headed out to us, all rather flash actually, and certainly a welcome change to struggling into ship's tender boats that usually seem to take half the day to be launched at tender ports to the frustration of passengers itching to get ashore. Thankfully this was a very efficient operation and the wait to be landed was not all that long really. I think they've done it before.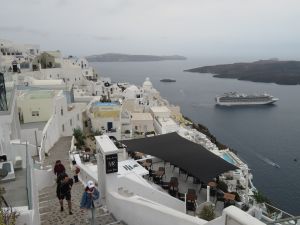 Arrived at the small stone dock at the base of the cliff that sports a couple of tourist-trap shops and a couple of cafes. You have three options to get to the top, either walk the stone zig-zag path up, which you really shouldn't contemplate unless you are under 40, pay an exorbitant price to ride up on the back of a REALLY stinking donkey which really is akin to cruelty to both animals and humans, or pay 6 Euros (about A$9) for the 5 minute cable car ride up. Guess which we opted for?
The other hazard with walking up is the humungous deposits of donkey crap everywhere, a very real OH&S issue particularly on a drizzly day as this one unfolded. We were to face this catastrophe a little later when negotiating a very narrow lane downhill in the town centre just after a string of donkeys with sacks of rice on their backs had preceded us. It was raining and the pathway was covered in it all the way down the hill (we had no option at this point) and not only were we overcome with the stench, but we just couldn't avoid walking in it! I'm going to stop right there!
Even though the tourist season was well and truly over and shops/restaurants normally closed for the winter whilst owners went off to spend their ill-gotten gains, surprisingly everything was alive! We stopped for lunch at a taverna overlooking the spectacular harbour with the Sapphire Princess way, way below us. Ordered a glass of rose with our lunch, which was OK, and decided on one for the laneway before leaving. The second glasses were half the size of the first (for the same price) so we asked for the same size glass as they served before. The waiter insisted (forcefully argued) that there was absolutely no difference, so Julie emptied the contents into her original glass and it only came up half way….clearly a rip-off. We showed the waiter who argued loudly with us, so I took both glasses up to the counter and gave them back to them. Told them they were cheating us and to give me the bill, which they did, but it included the returned wine that we had refused to accept. A bit of a shouting match occurred between me and the waiter as they insisted we not leave before paying for the second order of wine, so I just put cash on the counter for the amount less the returned wine, told them clearly what I thought of their ethics so the whole restaurant could hear, and walked out.
Wandered the very narrow system of whitewashed lanes crammed with lots of small shops until the crashing thunder and lightning rolled in (God's way of telling the locals not to rip off the tourists) and it started to rain, so back to the cable car / tender boat/ ship. So that was our day in Santorini, quite different to the last visit on a hot sunny day when the world seemed so much brighter. Tomorrow we have a day at Rhodes, before turning south to the Suez Canal and hotter weather. Overnight weather was a howling gale but relatively smooth seas, accompanied by more thunder and lightning which looked quite stunning when it lit up the ocean.
Thursday 14 November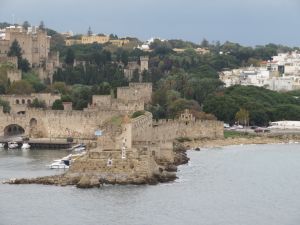 Arrived at the small but very ancient port of Rhodes at 7am this morning, and the first thing that strikes you is the amazing architecture of the Old Town immediately surrounding the harbour. The stone battlements that ring the historic town are exactly as they were back in the 1309 when the Knights of St John first occupied Rhodes. Even the buildings contained with its walls are untouched and still lived in by the locals, just as they were all those centuries ago. The more modern suburban sprawl extends out on all sides from the Old Town walls, and that part really seems to be exactly as you would find in any other part of Greece. Behind us we could make out the mountainous southern coast of Turkey in the mist, very close to Rhodes actually, I guestimate about 15km across the narrow strait. Car ferries and hydrofoils whip across to Marmaris.
We berthed just an easy 5 minute walk around the waterfront to the huge ancient entry gates into the town, and just next to us is Mandraki Harbour, only about a hundred metres wide, also sitting just outside the city walls, and now the dock for many small local fishing boats. Mandraki Harbour is famous for the Colossus of Rhodes, a 160 foot high bronze statue of the Greek god Helios that stood at the harbour entrance until it was destroyed by an earthquake way back in 226 BC. Apparently the island was first settled in the stone age, but really took off in the third century BC when it became a significant political and commercial centre of power in the Eastern Mediterranean.
Just after arrival the skies went black and it started to rain, so dark that the lights of the city went back on! We watched the BBC World News, and apparently the whole of the Mediterranean is under an intense low system, causing violent storms and torrential rain across all parts of this vast region, lucky us! They even predict that it is going to extend south down to the Suez Canal and Red Sea, just where we are headed tonight! Bummer!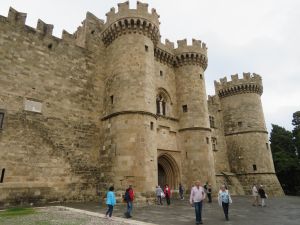 We held off going ashore until the rain stopped at 10am, then off we went to explore this wonderful town. You follow the waterfront path around until you come to the town portal with its tall timber doors, one of several entries through the ancient town walls and only wide enough for one car to drive through, and then it hits you! Amazing ancient buildings in every direction; no wonder Rhodes is such a popular destination for visitors! Directly ahead the first thing you see is the remains of a Christian church, just the walls, a couple of covered alcoves and some columns still standing, and behind that a tranquil garden rich in shade trees. We turned right and followed the cobbled narrow street that follows the inside of the wall right around the internal perimeter, but with narrow lanes shooting off into shadowy reaches, the entrance to very narrow two level residential homes, the rickety old wooden doors the only indication that people live in there.
All along the street level on both sides are wall to wall shops selling everything from all sorts of leather goods, clothes, colourful ceramic items, replica ancient swords and shields, daggers and suits of armour, herbal products, replica arts and crafts from every conceivable era in history, and of course, restaurants, oh yes, and postcards. Of course there is much more, but by this time my head is swimming!! All the streets and lanes are paved with many millions upon millions of small round stones, their narrowest edge raised uppermost so that you think you are getting a great foot massage, until the pain sets in! God only knows how many artisans were employed at that time in ancient history when they thought that this was a great idea, and how long it took to complete it. I guess in those days, time wasn't money like today and labour was cheap!
We continued along in the same direction, still following the line of the internal city wall, coming across several small colourful piazzas, usually with a lovely fountain in the centre, until we arrived at the 16th century Knights of St John hospital, a mammoth two level affair built around a spacious internal open air square, that the knights used to take care of the locals and those wounded in battles. This is now the historic museum, so having a need to suck a bit of the local culcha, we paid our way in coz there was just no way to do otherwise, and explored this vast building with its extensive system of archways and cloisters, and housing many rooms with artefacts retrieved from the realms of antiquity. Think plates, cups, amphoras and other containers from around 900 BC, marble busts from 300 BC, and the so very modern implements and jewellery from just a mere 800 years ago. We then came across the long Street of the Knights off to the left, a narrow lane leading uphill to the Palace of the Grand Master of the Knights of St John, a huge building resembling a castle in its own right. Pretty imposing!
And so the rest of the afternoon progressed, fortunately now in warm sunlight as the clouds cleared away, exploring this truly magical town, not quite up there with Malta, but close for pure beauty! Sailed at 5pm just as darkness was falling. The captain has told us we should be at the anchorage off Port Said for the southbound convoy through the Suez Canal by 5pm tomorrow afternoon, ready to up anchor and sail through the following day. Crossing our fingers it is a lot more pleasant than the miserable weather we had coming up in April! And here we are, sailing south to the sun, YAY!
Friday 15th November
Had a pleasant day at sea swanning down to the Suez (sounds like a good title for a book? OK, no then!). Reached Port Said about 4pm and there were already about a dozen ships at the anchorage waiting for the southbound convoy tomorrow morning, so we took up our position, dropped anchor and watched the sun setting over the Mediterranean, and the bright lights along the distant shoreline flicker on.
Saturday 16th November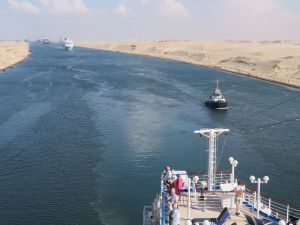 At 5am we heard the noise of the pilot launch come alongside, just underneath our portholes (lucky us), so up I got to supervise things on deck (well, in my mind anyway). Julie was so excited she rolled over and went back to sleep.
Slowly we crept through the darkness towards the entrance, the course only distinguished by the flashing port and starboard navigation buoys and the lights of a ship 1km ahead. We were 4th in line in a convoy of 22 vessels going south; apparently there were 24 vessels starting the same procedure down at Suez and heading north.
As dawn broke over the Sinai Desert on our left I could make out the familiar lines of the passenger vessel ahead, the old P&O Cruises Pacific Star (ex Costa Tropicale for our ship lover friends who would instantly know what I am referring to), a vessel that our friends Col & Rita had a hard time forgiving us for enticing them aboard on a South Pacific cruise a mere 13 years ago. I won't labour you with the details, let's just say it definitely wasn't five star. Anyway, the vessel is now the Peace Boat Ocean Dream, which travels the world in retirement bringing love and joy to those less fortunate. Interesting to see she is still afloat! The ship behind was the cruise ship Norwegian Jade, her hull painted in so many colours it looked like she was going to a carnival. Behind that, a string of immense "box boats" aka container ships, including two of the biggest in the world (400 meters long) that dwarfed the Jade in size!
As you may know, the Canal is the defining line between the continents of Asia on the east bank, and Africa on the west bank. So on the east bank we have the flat desert wastes of the Sinai, and on the west side flat, fertile green plains with villages dotted all away into the distance, and a very busy highway following the course of the Canal. Every so often long and wide irrigation channels feeding into the crops. As we had seen on the way up earlier this year, every 150 metres stood an armed soldier in his pillbox guarding the Canal, both sides, all the 194 kms down to the city of Suez at the Red Sea end. Every few kilometres a military compound with barracks, workshops and a parade ground.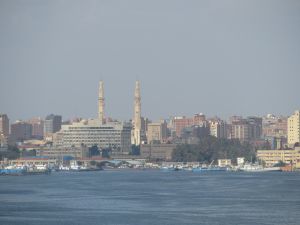 After around 2 hours we passed under the massive "Peace Bridge", 6kms long including approaches and built by the Japanese in 2005. Unfortunately it has been closed to traffic for several years due the threat of terrorism, so now it's just called "The Bridge"! Overcrowded car ferries have taken up the slack; it was interesting to watch them time their crossings in between each of the ships in the convoy as we passed by! There are three road tunnels under construction along the Canal length intended to replace the ferries at some future date.
As we proceeded south two things became increasingly evident 1) lots more sand around and 2) even more flies than in Melbourne on a hot summer's day. Yep, honestly that many, they were everywhere! The day was perfect, clear blue skies and a maximum of 26c, so very different to the April transit when we experienced a strong icy-cold gale and sandstorm.
We thought that the southbound transit would be just another rendition of the previous one, but surprisingly it was actually more interesting. About 1/3rd of the Canal was duplicated in 2015 and the south channel passes right beside the surprisingly large city of Ismailia. Here there is a 50' monument to the Egyptian and Allied soldiers that defended the country from attempted invasion by Turkey in WW I, including a cemetery to the fallen. You also see a lot more of the green side of the canal as unfortunately the northbound channel is hidden from this by sandhills along the duplicated length, named the Ballah By-pass. It is also interesting to note that there is a lot of construction activity going on since last April. At many points sealed roads are being laid right down to the Canal edges on both sides, those on the deserted Sinai side seemingly just disappearing into nothingness at the moment, but it hints at the possibility that Egypt is going to start developing that side in the near future.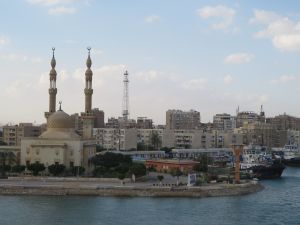 So, 11 hours and a couple of hundred photos later, we passed by the port of Suez, southern gateway to the canal, and emerged out into the Red Sea as the sun was just setting. Several hours later, the captain made a public announcement that we had a medical emergency onboard that necessitated the patient being landed as soon as possible, and we were making for an Egyptian port a little further down the Red Sea. That occurred at 2:15am, again right under our cabin. There was another emergency evacuation I don't think I mentioned, just a couple of hours after we left Southampton when we had to call into Plymouth to land a gravely ill passenger. I'm not going to mention that we have also had several people expire onboard (but what a lovely way to go!) Think I'll leave it at that for now. At the moment we are headed up the Gulf of Aqaba, the town of Aqaba ahead at the very top, our next port of call tomorrow morning. I'm heading off to the ancient site of Petra for the day.
Sunday 17th November
We left the Suez Canal yesterday with more passengers than we started with! Bloody flies know how to freeload! Anyway, they'll run into trouble when they arrive in Jordan without a visa! Last night we had a small drama when a passenger fell gravely ill and we diverted for the west coast of Egypt to land them at the "exotic" city of Hurghada so they could be rushed off to hospital. That could be a more life-threatening than whatever medical episode has befallen them! God bless travel insurance!!
The only other excitement for the day, apart from my riveting lecture of course, was the presentation we had from the Security Officer on the measures the ship will take whilst we transit through the Pirate Danger Zone once clear of the Red Sea in a couple of days, and sailing up the coast of Yemen and Oman to our next destination, Abu Dhabi. Apparently we are going to take a course very close to the western shore as we transit the Mandab Strait into the Indian Ocean. The Yemeni rebels just love firing missiles at ships they don't like whilst going through the bottleneck.
Monday 18th November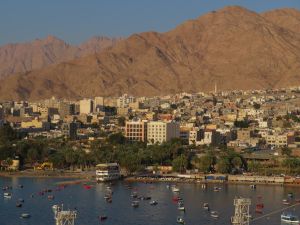 So, Aqaba, Jordan today, arrived at the port at 7am to very pleasant weather. The approach the port is interesting. Aqaba sits right at the very top of the Gulf of Aqaba where it becomes just a narrow curved bay, a couple of kilometres across, with the Israeli port and resort of Eilat facing us on the left hand side of the bay and Aqaba, in Jordan on the right hand side. Ahead, between the two cities a wide flat plain runs north into the distance, the border between the two countries, edged on both sides by very rugged mountain ranges which we had followed the all the way up the Gulf.
These mountain ranges facing each other are a sort of tan brown colour, weather-beaten by millennia of storms into deep gullies and jagged spurs, sliding straight down into the narrow coastal ledge along the water's edge on both sides, only wide enough for a road but not much else. The cliffs are so sheer that you couldn't build on the sides of them, let alone climb up them. Nothing grows up there, not a tree or a blade of grass, just large rocks. They reach an awe-inspiring height of several thousand feet, and behind them is another range of darker coloured mountains, just as wild and deserted. And behind that on the left hand side lays the empty wastes of Saudi Arabia. Across the water on the right hand side lays the sandy wastes of the Sinai Desert and Egypt, with a clearly defined border with Israel. You can tell where the Egypt - Israel border sits, coz that's where the smart modern buildings end, and the Israel – Jordan border is defined by a sort of wasteland between the two running north along the middle of the flat valley between the mountain ranges. Got it? Yep, I know it sounds a bit confusing, but bear with me. Standing on deck you can see all these four countries very clearly.
Whilst Eilat looks very modern and orderly with tall hotels and apartment blocks on wide boulevards (this is Israel's very popular southern resort town, the others being on the Mediterranean coast), Aqaba contrasts with its mostly lowset white buildings reaching from the waters edge up the slope of the mountain behind until it reaches a point where it is just too dangerous to continue building. There are several tall buildings, well, about 10 stories or less, and a few Muslim minarets sticking up here and there, but Aqaba only has a population of 100,000 so it's not that large. It is Jordan's special economic zone where prices of goods are much cheaper than anywhere else in the country, intended to attract an increase in Jordanian population from the north of the country to populate this otherwise arid and dusty region. For example, a can of coke here is 55c, and $2 outside the zone. In fact there is a customs control barrier just 10kms north of the city on the only highway out of town where locals must declare and pay duty on anything they take outside the zone.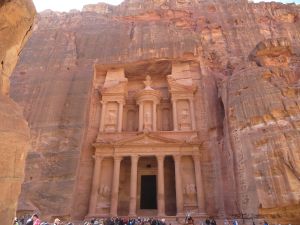 I decided to do the full day tour to Petra, whilst Julie elected to have a quiet day on board. Unfortunately women are advised not to go into town alone, and anyway there certainly is very little to entice anyone into the city itself. So, two hours on the coach heading north through desert country with the odd shanty town and a couple of more established communities along the way. The four lane highway winds its way along a valley between high mountain sides totally lacking any vegetation, but you can clearly see lines of copper and lines of iron ore deposits along the mountain faces. Apparently they have an awful lot of these two valuable minerals, but have chosen not to mine it.
One thing I noticed along the way, homes are built up on several levels, and the top level always looks unfinished, with metal reinforcement rods sticking out everywhere above the roof line. This is also in Egypt where we had the advantage of looking down from the deck onto so many houses with the same unique feature. It was explained to me that there are two reasons for this, 1) an unfinished house attracts a much lower tax than a completed one, and 2) the family unit lives together, so as each generation marries, another floor is added to the last one to accommodate them. A sort of family layer-cake. So in a three story family home, the ground floor belongs to the grandparents, the next floor up is for the next generation, and the one above is or will be built on for the following generation. Neat huh?
Leaving the highway we climbed along numerous mountain ridges to reach a height of 4,500 feet from where the views down across the sandy desert plains and other crops of dry mountain ranges disappeared into infinity in the brown dusty heat haze. Finally rolled into the town of Petra which clings all the way down the sides of yes, even more steep ridges, to the valley floor where the ancient ruins of the Petra of old are located. The "new Petra" is a collection of hotels, restaurants, souvenir shops and houses that have suddenly sprung up since "Raiders of the Lost Ark" was filmed here, and the world suddenly discovered Petra! It exists because almost 1 million tourists visit this site every year, each parting with an incredible US$80 entry fee! A few decades back you probably could have bought the whole bloody place for that!!
From the Visitor Centre it is a rough 1km walk downhill to the Siq, the 1.3km long gully that winds its way down to the actual entrance to Petra proper (hmm, that has a certain ring to it)! The Siq, a narrow chasm with very high sides and incredible rock formations all along its path, was formed by water erosion during periods of heavy rain, over many millennia. Again, the path down is very rough underfoot, and that is why the visit to Petra is only recommended for the very fit (I think I fooled them on that score)!
Along the way you can see carvings of some of the ancient gods of the Nabataean people, a nomadic tribe from around the area of Syria, who migrated south and founded this lost city way back in 300BC, and finally left after two horrendous earthquakes levelled the residential part of the city around 500AD.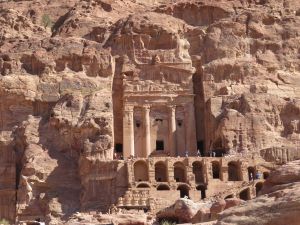 As soon as you emerge from the Siq, the famous "Treasury" building, carved from the sandstone rock face hits you fair and square in the face. It looks over a reasonably large sandy plaza area, a sort of canyon. To the left of it, the area is ringed by high cliff walls, and off to the right another broader pass leads down into the remainder of the city. The Treasury is actually a misnomer; it was built as a mausoleum for one of the Nabataean kings, but the legend was soon circulated that it actually housed all his treasures, and when the site was first discovered in the 1950's, treasure hunters convinced that the stone carvings on the face of the building were where the treasure was hidden, set about blasting it with hundreds of bullets hoping to release the fortune they thought was behind the sandstone carvings of Roman gods. The result is a sad defacing of what would have been spectacular artwork.
This large open area was just crammed with tourists, Bedouin stalls selling all sorts of ancient curios, many with made in China on them (who would have thought that the Chinese made stuff here all those thousands of years ago), camels and donkeys. Which reminds me, up at the visitors centre you can hire a donkey to take you down to the Treasury for $40 and save yourself a 1.5 hour walk. I understand that it is $80 for the ride back. I wonder why?
As you absorb the wonders of the treasury building, apparently made famous by Harrison Ford, you can continue down the rocky slope to more tombs and spectacular buildings carved into the various rock faces until it opens out into a broader space where a Roman (they attacked the joint around 300AD and kept it for themselves) amphitheatre is also carved out of the sandstone cliffs. It seats 3,000 spectators. Up to now, the area uncovered so far has been the cemetery for the inhabitants of Petra over so many centuries, but from this point on, the site is where the commoner lived. And up to this point the cliff faces have had lots and lots of little narrow caves carved in to the cliff faces; word is that when a person died, the Nabataeans believed that they would return at some future point in time, so they stuffed the body in these holes in the cliffs with their worldly goods that they would need when they got back to Earth. I guess Heaven isn't a permanent paradise you get to reside in then?
Unfortunately the earthquake completely destroyed all the houses in Petra, and only parts of a large Christian church (yep, the Romans introduced Christianity as some point in Petra's history), and some other community sites are identifiable. A visit to Petra can take you a couple of days if you want to do it properly as there are a number of other trails to explore around the area, and believe it or not, only 20% has been unearthed at this stage. Imagine what still lays beneath!!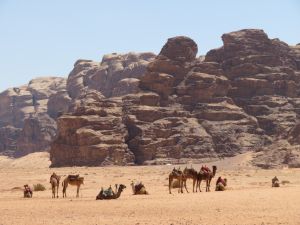 One thing I will say though, having been to Wadi Rum (the other must-see site from Aqaba) on our way up in April, both sites are equally spectacular, but for different reasons. Whilst Petra is crammed with man-made architectural splendour, Wadi Rum is staggering in its sheer natural beauty. If we came back this way some time in the future, we would go back to Wadi Rum for sure.
I'll not bore you with the return journey, but suffice to say that I returned to the ship desperately in need of a beer, and covered in a fine layer of grey dust! We sailed at 7pm on the next leg of our voyage towards Abu Dhabi, 6 sea days away.
Tuesday 19th November
A lovely day at sea, only interrupted by a Pirate Attack Drill called by the captain, which was mandatory. Crew were sent to their ship defence stations and started to operate the high-pressure hoses over the sides, and the rest of us straight to our cabins, lock the door and close the windows, then sit on the floor or low down on a chair, after which we were then called to muster stations for check-off. Fun way to spend a morning, so entertaining.
Late in the afternoon we were advised that we had a medical emergency on board, and we were immediately diverting from our course in the middle of the Red Sea to Jeddah, a Saudi Arabian seaport about half way down the Red Sea coast and famous for its close proximity to the Islamic Holy City of Mecca. The Captain expected we would reach Jeddah about 6am tomorrow morning, stand off the port and transfer the passenger to a launch to get them to shore and to hospital. I've always wanted to see Jeddah.
Wednesday 21st November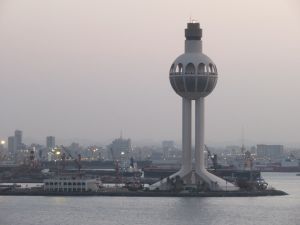 Well! What an interesting experience our unscheduled call at Jeddah, Saudi Arabia turned out to be!I meant it when I said that I always wanted to see what Jeddah was like. Just over 20 years ago I was offered a position there with the company I was working for at the time, and for a variety of reasons I turned it down. I often wondered what sort of place Jeddah was, there on the desert coastline, and just 60kms inland from Mecca.
Anyway, 5:30am arrived and I sat bolt upright in bed, mustn't miss seeing Jeddah I said to myself, even if from a distance, so out of bed I sprung, drew back the curtains and yep, there were the lights onshore disappearing all the way down to the horizon. 3 minutes later I was on deck 16, just as Dawn was breaking; well, let's just say she was making her presence felt over in the eastern sky behind the city. All on deck were surprised because a pilot boat came out from the port and 2 pilots boarded, and soon after we were negotiating the very narrow channel between coral reefs, and headed for a dock inside the port itself. You could tell where we were going to berth because there were a couple of police cars and an ambulance on the wharf, all with their lights flashing. A mixture of soldiers with their automatics, policemen, blue-suited paramedics and various officials in their long white Arab dress and red and white chequered head dress were milling around waiting for us to come alongside. We were going to actually stop in Jeddah, with the whole of this huge city right before our eyes!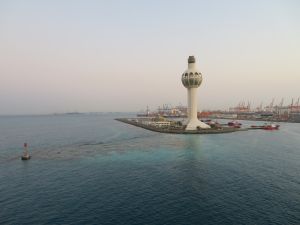 Sapphire Princess edged her way very cautiously through the really narrow port entrance, a huge container terminal on our right, and an amazing port control tower sitting on a kind of breakwater affair on our left. This white tower is impressive, it stands about 150' high and two thirds of the way up there is a curious bulge right around it, a bit of fancy architecture, but obviously housing the port control operations. The port is enormous, spread out in various directions and lots of different sized vessels at berths. Who would have thought? In my tiny mind I had visions of a semi-sleepy town with a bloody great desert just behind it. Nup! The city skyline went on forever in both directions, north and south. OK, most of the buildings were only a few levels high, but here and there were very tall modern buildings, some in interesting shapes. There was even a busy elevated freeway between the docks and the commercial centre. Behind the city, in the distance you could just make out a line of hills, all sand I'm thinking.
We pulled alongside, this gangway just a short distance from our cabin, was rolled out onto the wharf, and then the fun began. Officers from our ship went over to meet the group waiting on the dock, and after much handshaking all round, it was clear that serious and intense negotiations were about to commence, and that they certainly did! Saudi officials came and went with regular frequency, a constant stream of official cars as well. It was clear that our unofficial arrival inside the port had created quite a monumental problem for Saudi officialdom!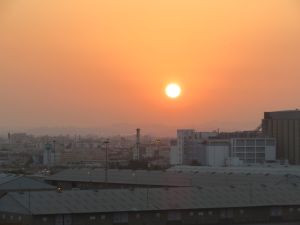 After an hour of to and fro, the patient was wheeled down the gangway and placed in the ambulance, closely followed by her husband. We understand through the ships grapevine that she was having severe breathing problems, but heard little else about her condition. It must have been severe for us to divert right off course to this place, but it surprised everyone that she was able to get into the ambulance unaided.
Whilst they both sat in the ambulance, completely and absolutely ignored by everyone, deep conversations between various groups, the Saudis and our ships officers and medical staff, continued on for another hour or so. Finally their baggage was brought ashore and placed in a police car. More officials came and went after further deep discussions, and finally 1.5 hours after they had been placed in the ambulance, it finally departed. We were told that they would be taken to a US Airforce base somewhere and flown to a hospital somewhere. It turns out that the delay and all the palaver was about granting them visas to enter Saudi Arabia without prior approval. Probably also deeper discussions about who was going to pay for all this! God help them if they didn't have travel insurance!
So you think this is the end of the story huh? Nooo, you're wrong. It just so happened that one of the Pilipino crew members had received very sad news that his young son had died the day before, so the ship had requested he be granted a compassionate visa to go out to the airport and fly home to be with his family. Yep, further negotiations and much to-ing and fro-ing of car loads of officials, still in white gowns and red headdress! His passport was taken away to some officials' office to have a visa issued for him to land, and it wasn't until 11am that it was returned to him and he was allowed to leave the ship, and a taxi sped away to take him to the airport. Poor fella, it must have been so difficult for him to go through all that after the loss of his son!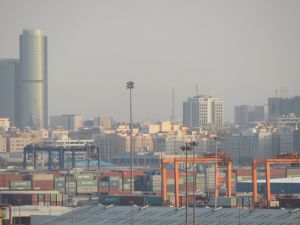 By this time the dry heat of Saudi Arabia had really cranked up and there were many thirsty souls on board that had been watching the whole charade. Sadly for them, all the bars on the ship had to be closed because of the Muslim distain for alcohol. Every bar had to have a large curtain across it to hid any sight of alcohol, even though no official had boarded the ship.
At 11.15am, to the relief of all those thirsty passengers we finally received permission to depart, and the captain announced that this diversion would not delay our arrival in 5 days' time at Abu Dhabi as they would put the foot to the floor and go all-out to make up time. The passage out again through the coral reefs was rather colourful, the water a bright turquoise colour. As we pulled further way from the land and back out into the middle of the Red Sea, you could see away to the north a peninsula with several very modern high rise buildings that looked like they could be resorts on the beachfront and to the left buildings all the way into the distance. So, that was our visit to Jeddah. Highly unlikely we will ever see this city again.
Sunday 24th November
No, we haven't been taken by pirates, nor wound up in some unexpected harbour. With 6 days at sea there is really nothing of consequence to make this interesting, so the intention is not to bore you to tears! Sea days have been lovely, a calm blue ocean, deep blue skies and warm weather, cold weather gear firmly packed away for the foreseeable future. Everyone just slips into their own routine during sea days, and of course I have my daily lectures attended by a dedicated following of passengers. As they are televised, they also can be seen in passengers cabins, and by the crew too, who love to chat to me about the subjects I talk about.
As I write this, we have spent the afternoon speeding flat-chat up the Gulf of Hormuz, the coast of Iran surprisingly very, very close on our starboard side. Again with those steep, wild, tan coloured and roughly contoured mountains clearly visible, the cliff faces tumbling directly down into the ocean and several rocky outcrops offshore. On the opposite side of the ship, the distant coastline of Oman, and a number of large and small fishing boats to be seen, and of course the constant stream of oil tankers either going into the Persian Gulf "light ship" or coming out loaded down to the waterline. We have been told that naval vessels are patrolling each of the three sectors we sail through along the Oman coast and through the Gulf of Hormuz and into the Persian Gulf.
I reflected on the fact that we have clearly seen the coastline of seven different countries in the past 6 days that we haven't actually visited: Turkey, Egypt, Israel, Saudi Arabia, Yemen, Eritrea and Iran. The last five hardly distinguishable between each other. Yep, just lots of sand and really rugged mountains! I have to say though that Jeddah was a welcome brief interlude. Wish we could claim that we had actually set foot in these places – except Yemen which is enduring a lengthy and bloody civil war and definitely not at the top of anyone's wish list!
Tomorrow morning we arrive at Abu Dhabi, the capital of the United Arab Emirates, and since the port is a good half hour away from the city and taxis are very expensive (think a A$10 flag-fall fee before you even get in to go anywhere), we took up the special crew rate for a shore excursion of the sights of the city, including the amazing Grand Mosque. Apparently an absolute "must see".
Monday 25th November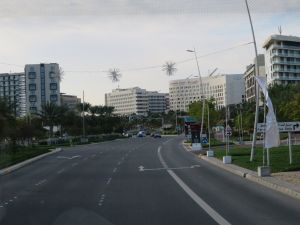 Berthed right on schedule at 7am. The port is built on a vast area of reclaimed land, and the outline of the city can be seen in the middle distance. Not nearly as dramatic architecture as in Dubai (where we leave the ship tomorrow), but apparently the ruling family under Sheik Zayed have been slower off the mark than the Al Maktoum family in Dubai. They intend to catch up though, and a few really interesting designs are starting to emerge – far more daring than what we have in Australia. In fact I would have to say that, with a few exceptions, we are way more conservative in building design.
There are seven Emirati states altogether (hence the United Arab Emirates) , and the two I have just mentioned are the most advanced. The sheiks of the other five prefer the more traditional way of life and adherence to Islam, although the feeling is that they will have to become more receptive to tourism as oil reserves become depleted, which apparently isn't really all that long away.
And so, back to today. Every passenger and crew member had to go off in groups to do a face-to-face with immigration officials before we could go anywhere else. That over, we joined our tour. After 30 minutes on the ring road around the city ( we had driven along relatively quiet freeways, 5 lanes each side)we crossed over several major bridges between what it turns out is a series of islands, many reclaimed. In fact, the city of Abu Dhabi was originally founded on a large sand island about 300 metres off the mainland. For that reason, everywhere you look there are bodies of sea water and heaps of mangrove trees surrounding the wide city area. We are told that they are maintained for environmental reasons to take the carbon out of the air and replace with oxygen.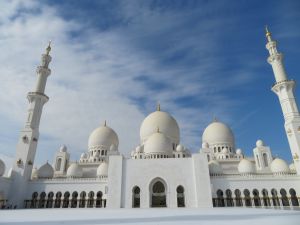 Our guide spoke for quite a while about how the economy of Abu Dhabi has taken a nose-dive over the past 5 years with the fear of oil becoming scarcer, fears about the war in nearby Yemen, and the global economy in general. He painted a picture of mass unemployment, huge retrenchment programs within the larger companies, and investment coming to a standstill, not to mention rocketing prices – and he's not wrong there! Abu Dhabi is extremely expensive by Australian standards. He pointed to huge housing developments and a few really large hotel complexes that remain incomplete as investment dried has up over the past couple of years and developers evaporated. On the other hand he referred to the extravagant lifestyle of the sheik and all his extended families, with their mammoth palaces (which we drove by and had to be seen to be believed – every one of them left Buckingham Palace looking like an absolute hovel!!). Not to mention their collections of Ferraris, Lamborghinis and exotic animals such as tigers and panthers that they drive around with as an exhibition of their wealth.
Our first stop was the famous Grand Mosque, a ginormous (big) white construction with 80 gold-topped domes and four pure gold-topped minarets at the corners, each standing 107' high. It took 10 years to build, and was completed in 2009 and cost half a billion US dollars! To enter the mosque, you first have to ride an escalator down underground to a vast marble lined foyer area where you enter your details on a computer screen before being issued with a ticket. From there you walk about 100 metres to another vast marble lined area containing shops and then a couple of hundred metres along a hallway to more escalators that take you back up to the surface in front of the mosque. Laid before you is an amazing edifice. A colonnade of gold and inlaid marble rings the exterior of the building, set alongside long shallow ponds of deep blue water. Entering through the massive domed archway, the open central square, as big as a cricket ground, stands right in front of you. We walked around the square via the colonnades to the entrance to the interior of the building, and that was jaw-dropping. Apart from the incredible space within (which holds over 30,000 worshippers at one time), the carpet itself on which they pray was simply amazing. There are over one billion stitches in the carpet which was made in Iran.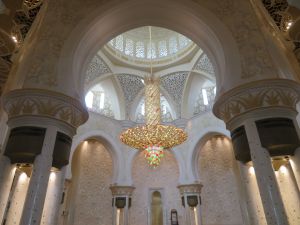 The chandeliers? Well, glad you brought that up! There are 8, all made of Swarovski crystal, 7 of which are worth 3 million US$ each. The central one, number 8, is worth US$8 million, and is 8 metres high and 10 metres wide! It's a race with Vatican City methinks!
Back on the coach, and off towards the city central, driving past a long, long line of royal palaces (miniature cities in themselves), each one owned by a relative of the sheik. You are forbidden to photograph them, but let me tell you, they are REALLY huge, with sprawling gardens and most have up to six separate grand entrance gateways, all equipped with heaps of military to guard them. Oh, to be that rich!!
The favourite occupation of the royals, apart from fast expensive cars and exotic animals, is falcons – no silly, not the old Ford models, these fly faster than any old Ford could! They cost upwards of US$200, 000 each, and live for around 20 years. Royal family members like to fly either across the UAE or internationally with their favourite falcon and buy a First Class seat for them when they travel. Don't think that is ever going to take off in OZ!
The city CBD is quite large, a mixture of apartments and office buildings. Apart from the several tall towers around 70-90 stories high, the rest are around 20-40 stories high. Streets are really wide, think around 4 to 5 lanes each way and tree-lined. Well, there was a lot of sand to play with when things started to move in the early 60's when the Brits first discovered oil there. We visited a cultural village exhibiting several different styles of Arab living conditions because the locals lived either by the sea (the Persian Gulf) or inland in the desert.
Lunch back onboard and then the task of packing, ready for disembarkation in Dubai tomorrow morning. Us, and 500 others. The rest are remaining onboard to Singapore. We're comfortable with that because we have only 3 weeks at home before we join the next ship, the Sun Princess in Fremantle bound for the Indonesian Islands.
We are overnighting in Dubai because the direct flight to Brisbane departs in the morning and we were concerned that we would not have enough time to make the flight. Crew disembarkation can be quite a trial. We have experienced that drama before and only just caught the flight which is OK if it is a domestic flight, but not so if international. Miss the flight, and you're stuffed! Anyway, a day exploring Dubai never hurt anyone! And it was worth it; wish we had a couple more days!