Voyage Logs
This page contains a collection of memories, some distant some recent, of voyages taken across the vast expanse of our oceans, reproduced here for your enjoyment and hopefully even education.
There is no other experience quite like a voyage to expand the mind, to feel free in the vast spaces of a deep blue sea, and to immerse yourself in the sights, sounds and smells of distant lands visited along the way.
Readers are welcome to offer their memories for inclusion on this page. In the first instance, please make initial contact with me by using the Contact Form found on this website, and I will respond quickly. Shared stories will need to be factual, readable, appropriate and of general interest to a wide audience, and not subject to copyright. I look forward to hearing from you.
1863 A Journey to Queensland
These days it is hard to imagine embarking on a 3-month non-stop voyage in a 1218-ton ship with 432 passengers crammed into it. The clipper "Golden Empire" arrived in Brisbane after experiencing 4 births, 3 deaths (both statistics including a son of this diary's author) a flogging, a crew mutiny, and two mast breakages on the voyage (so nothing too serious).
Reproduced by courtesy of the Queensland Maritime Museum.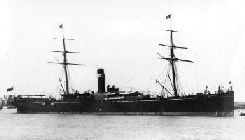 1886 By steamer to Australia
An account of a voyage to Australia on the sail-assisted steamer "Dacca". Births, deaths, cholera, tropical heat, storms and (supposedly) cannibals; not a voyage you'd undertake for the fun of it.
Reproduced by courtesy of the Queensland Maritime Museum.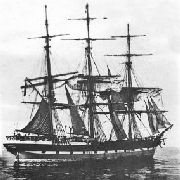 1896 A voyage to the colonies
This is my Grandfather's account of a voyage from England to New Zealand and back in 1896-97, as a deck apprentice on the clipper "Invercargill". It describes in detail a life under sail; the hardships and privations, and the agony of being becalmed for days almost within sight of home.

1902 A voyage log, or a love letter?
Another account, this time Granddad was a passenger from Australia to England on the steamer "Runic". He had left behind the girl he would marry.
In those days passengers organised their own entertainment, and seemed to have had fun doing so. In port, a few had trouble getting back to the ship on time - some things never change!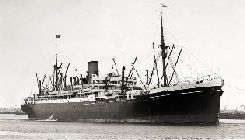 1920's Between the Wars
Not so much a voyage account as an essay; a commentary on the people and attitudes of the times rather than the ship "Largs Bay" or the voyage.
Reproduced by courtesy of the Queensland Maritime Museum.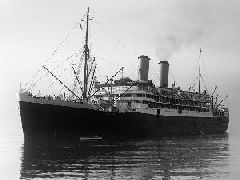 1958 We are going to Australia tomorrow
Recollections of being brought to Australia on the "Orontes" as an 11-year-old "ten pound pom" during the post-war migration boom.
Reproduced by courtesy of the Queensland Maritime Museum.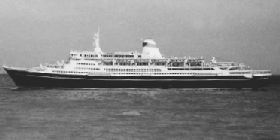 1975 A month to remember
My own account of a horror voyage from England to Australia on the Soviet (USSR at that time) owned and crewed "Shota Rustaveli".
The Cold War was in full swing, the KGB was evidently in charge of the ship, and the passengers could have been forgiven for thinking they were on a floating Gulag. Oh yes, and there was that Soviet submarine...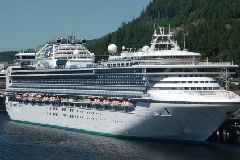 2019 Calm seas and smooth sailing
Notes of a voyage from Singapore to London on board "Sapphire Princess". On sea days I delivered enrichment lectures to the ship's passengers; it's a tough life.
This voyage took me to some more out-of-the-way ports for the first time, and enabled me to renew acquaintance with others I hadn't seen for a while. In between, we sailed some waters where the threat of pirate attack is taken very seriously.